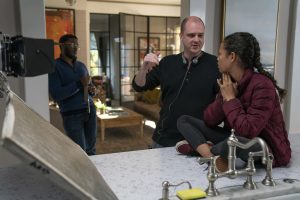 By ANGELA DAWSON
Front Row Features
HOLLYWOOD—Kyliegh Curran is only 13 years old but already is an accomplished actress. The Miami native starred in a Broadway production of "The Lion King," as Young Nala when she was 10. And she now has a leading role in the big screen adaptation of Stephen King's "Doctor Sleep," the sequel to the "The Shining," opposite Ewan McGregor.
In this horror sequel, Curran plays Abra, a teenager with telepathic abilities (the shine), much like little Danny Torrance had in the original book and in the Stanley Kubrick movie adaptation. Unlike Danny, though, Abra embraces her ability—seeing it as a magic trick that she doesn't mind showing off. Her parents are fearful of Abra's power; and an immortal cult, known as the True Knot, prey on children like her to fuel their immortality. When they attack, it's extremely brutal. The leader of the cult is a beautiful but dangerous woman known simply as Rose the Hat (Rebecca Ferguson). She begins to sense Abra's existence and sets her group to track the powerful youngster. Meantime, Abra connects with Danny, now an adult who has struggled with alcoholism just as his father did, and the two join forces to defeat Rose and the other members of the True Knot. Their showdown leads them—where else—back to The Overlook hotel, where Danny was traumatized by evil ghosts years earlier.
The film, adapted for the screen and directed by Mike Flanagan (TV's "The Haunting of Hill House" miniseries), was a remarkable experience for Curran, who was chosen for the part of Abra from among nearly 1,000 young actresses. By phone, Curran, who turns 14 next month, spoke about her role in "Doctor Sleep," her introduction to the world of Stephen King and little about herself.
Q: What do you think you brought to the audition that made you a standout for the role of Abra?
Curran: I'm not sure. I did spend a lot of time with my acting coach working on the character.
Q: Were you familiar with Stephen King's "Doctor Sleep" and had you seen "The Shining?"
Curran: I'd heard of "The Shining," but I hadn't watched it yet. I got a chance to watch it right before the (audition) call back. Ever since then, I've loved all of Stephen King's books. I'm currently reading "The Stand."
Q: Have you met Stephen King?
Curran: Not yet, but I hope to someday.
Q: What was it like working with Ewan McGregor on "Doctor Sleep?" Did you have time to get to know each other and have fun on set?
Curran: Mr. Ewan is super sweet. I really enjoyed working with him. And on set, it was like a big family. It was all fun. So, we did get a lot of time to talk. And I think because we grew a friendship out of the story, we really connected with our characters better.
Q: Your character, Abra, has this special gift, and she embraces her specialness. Was that something you connected with as an actress?
Curran: Yeah, kind of. I feel like sometimes if you're involved in acting or theater, kids my age don't understand that, and kind of poke fun of that. So, a lot of people hide away their true feelings towards acting. But I feel I relate with Abra. I love the theater and I love acting a lot.
Q: How was it playing this fearless girl in "Doctor Sleep?" She's being threatened by these cult-like characters who want to do her harm, and she deals with them in a direct way while working closely with Dan (Ewan McGregor's character). Could you talk about her bravery?
Curran: It was a lot of fun playing Abra. I don't think we get enough young leads who are super-powerful and aren't just a background character. So, it was a lot of fun to play her, yes.
Q: Do you consider her traits—being brave and being able to face crisis head on—something that young people can admire and embrace?
Curran: Yeah. She's very ambitious and confident, and a little bit reckless, sometimes. But she does it all for a good cause. She's genuinely good, and I think that's a big part of her bravery.
Q: Did you have a favorite part of this movie that you shot?
Curran: Definitely where Dan (mentally) takes over Abra. That was a lot of fun to film. I had been watching Mr. Ewan build up to that scene. So, it came pretty naturally.
Q: Ewan McGregor also started acting at a young age. Did he give you advise, or did he share any stories about when he was a teen actor?
Curran: Sometimes he'd talk about his acting life. But we mostly talked about our lives off of set, and commented on fun things that happened on set.
Q: When did you film this?
Curran: Last October and November.
Q: What was the best advice you've received from Ewan, or anyone else, about how to handle your first big movie role?
Curran: Having Mr. Ewan and Miss Rebecca (Ferguson, who plays Rose the Hat) really helped me. It was a little overwhelming sometimes because I was very new to film. But everyone on set was super sweet, very helpful, especially Mr. Mike (Flanagan, the director). I really appreciated having him there.
Q: You've done theater and now film. Do you have a preference?
Curran: They're both completely different. I love them both equally now that I've done both. With musical theater, the music surrounds you and your performance is live, so that's cool. On film, it's fun and you get to do many many takes. You get to play with it.
Q: Do you still call Florida home?
Curran: I live in Atlanta now but yes, I still consider Florida home.
Q: What's the most interesting place you've visited?
Curran: I went to The Stanley Hotel (that inspired King's "The Shining") in Colorado. So far, that's been the most exciting to me. Soon, I'm going to Toronto. I've never been out of the country so I'm very excited to see what's there.
Q: What got you interested in acting? Was it a live performance, a TV show, a movie? What was your connection with the performing arts world?
Curran: I've always been a super-energetic and theatrical kid. I didn't really have a place to put that energy, so we found a local theater and I started doing shows and classes when I was seven. That's where the acting bug bit me. I started to want to do it more and more, and then all of this stuff happened. I never would have thought my dreams would come true.
Q: Do you have any siblings, or pets?
Curran: Yes, I do. I have three siblings, an older brother and two younger sisters. I also have two dogs. We used to have two cats, but now I have one kitty named Saoirse, plus two rats and a ferret.
Q: Rats?
Curran: Yeah, one's called Cheesecake and the other is Oreo. They're Fancy rats and they're so cute and so sweet. They're just adorable.
Q: How is it being a celebrity now and being interviewed about yourself and your work?
Curran: I don't really consider myself a celebrity. Really, I just think of it as doing what I love and there's other things that come with that.
Q: Your grandfather, Whittington B. Johnson, is a noted writer and scholar. Do you also like to write and what kind of writing do you do?
Curran: Yes, I love writing. I want to write horror novels but also some nostalgic fiction. Capturing people's lives is a lot of fun. Definitely, my grandpa's been an influence (on me).
Q: I understand that you're an advocate for literacy? How important is that to you?
Curran: Very important. We don't understand how important reading is, early on, but then, as we get older, we do. I also really love the environment so I'm hoping to get more into (supporting environmental causes).
Q: What concerns you most about the environment?
Curran: Global warming, definitely. We're not paying enough attention to it. I think if I could get involved, and a bunch of other young influencers can get involved, our generation can really realize what's going on.
Q: Are you active on social media?
Curran: My mother does my social media but I like working with other young influencers. It's inspirational.
Q: What's coming up for you, acting-wise?
Curran: I'm doing the mystery/paranormal show for Disney Channel called "Sulphur Springs." I'm very excited to start shooting it. It's very different from normal Disney Channel shows.
Q: Do you have a favorite celebrity?
Curran: I love Billie Eilish and Lupita Nyong'o. Jordan Peele is amazing. I actually got to meet (actress) Miss Victoria Pedretti on set one day, and let me tell you, I almost died. She's so talented.