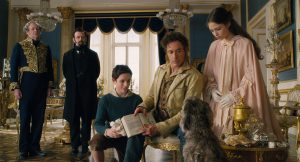 By ANGELA DAWSON
Front Row Features
HOLLYWOOD—Carmel Laniado makes her feature film debut in "Dolittle," the newest Hollywood take on the classic veterinarian character from children's literature, alongside a titan in the movie industry, Robert Downey Jr. (Rex Harrison starred in a 1967 adaptation that featured real animals and Eddie Murphy starred in an updated version set in San Francisco in 1998 and a 2001 sequel).
The 14-year-old actress is taking it all in stride as she sits down for a day of interviews inside a trailer on the Universal Studios Hollywood lot. Born in Israel and raised in North London, Laniado appeared in a supporting role on the BBC's "A Christmas Carol," that aired over the holidays. Though the brunette may be a newcomer to the big screen, she is poised beyond her years.
Dressed in a pretty pink short-sleeve dress and cream-color pumps, she discusses her role as Lady Rose, attendant to Queen Victoria, who is sent on an urgent mission to retrieve the reclusive Doctor Dolittle (Downey Jr.) to come to the aid of the ailing monarch. Dolittle is initially is reluctant to leave his countryside compound filled with all sorts of animals he has treated over the years. He has lived in seclusion ever since his beloved wife was killed on an animal rescue mission several years earlier. He blames himself for her death; regretting that he didn't go with her, or at least convince her to stay with him in Britain. Rose, however, is undeterred and convinces the doctor to join her on the trip back to London or face losing his compound if the queen dies. After diagnosing the queen's ailment as poisoning with the treatment a rare plant on a far-off island, Dolittle, accompanied by an apprentice (Harry Collett) and a menagerie of animals, sets off on a seafaring adventure to retrieve the antidote before it's too late.
Q: What was it like making your first film?
Laniado: It was crazy to me that something like that would be my first film. At first I felt like I was thrown into the deep end because there was so much going on but because everyone was so positive, there was such a great environment. There was never an awkwardness or anything. I got used to it really quickly.
Q: How did you come to do movies? Were you a model or do commercials?
Laniado: "Dolittle" was the very first thing so I'd never gone anything beforehand but I've always loved acting from a really, really young age and I always took acting classes as well. You have to audition forever for it but because it was my first audition, I didn't have any high expectations. I just thought, "You know what? I'm just going to go for it," because I didn't know what to expect. I had no idea that it was a Universal project. I had no idea that it was with Robert Downey Jr. until the very end of it. So, I just gave it a go.
Q: Tell me about working with the other veteran actors and your young co-star, Harry Collett.
Laniado: It was so great. They are all so down-to-earth but they can be so charismatic as well. They all really made sure that Harry and I knew what we were doing and that we were prepared and we felt comfortable which was really great and they gave us really good advice on set as well just about anything that we needed or anything that we wanted to know so that was really helpful.
Q: Were you nervous about meeting Robert? What did he say to you?
Laniado: We met at the screen test actually and I was completely star struck when I met him but because he's so nice and because he's so understanding, it really wasn't a problem at all.
Q: Tell me about your character, Lady Rose. You have such beautiful elocution. You just seem royal.
Laniado: (She blushes.) Poised.
Q: Are you just naturally gifted that way or did you take some classes on how to move and speak?
Laniado: I did a lot of preparation to get into the role because I think that's absolutely necessary to be able to do it to the best of your ability. I watched all sorts of documentaries and films to be able to see exactly how they (royals) talk and walk and eat. Also, I went with my mum to Kensington Palace which is so cool because I got to actually see what it was like living in a palace like that. I remember we walked into Victoria's playroom and I was so taken aback because, obviously, it's so different to any playroom now. I remember I saw all of her doll houses. I saw her dolls and everything. I thought 'Wow, Lady Rose must have spent a lot of time in these rooms," so yeah, that was a really great experience.
Q: You filmed this a couple of years ago. Did you have to come back to shoot additional scenes?
Laniado: We did a couple of re-shoots. I actually didn't have that many reshoots to do which is nice. Three days of reshoots.
Q: Since this is the first time a lot of audiences will be seeing you, tell me a bit about yourself.
Laniado: I was actually born in Israel but I've lived (in North London) practically my whole life, so I'm a British actress. I've worked professionally now for two to three years since we first started filming "Dolittle," but I've always loved to act from a really young age. My parents would always take me to musicals and theater shows, and I just had that natural attraction to it.
Q: Do you want to sing on screen?
Laniado: Yes. One day I'd like to. That would be really cool.
Q: Who was your role model growing up?
Laniado: Helena Bonham Carter. She's absolutely beautiful. She's such a great actress. She's so dedicated to her craft. With every character she plays, I'd always be so taken aback because so is so good at it. Really, really great. I actually met her one time which is so funny, not for filming or anything. We both went to an Adele concert and she just happened to be sitting right next to me which was insane. I couldn't believe it. My favorite singer and my favorite actress together in one room. How good could this get?
Q: Have you watched her on the new season of "The Crown?"
Laniado: I started watching it. I haven't finished it, but I'm so in love with it. It's so good.
Q: What are you doing now? Are you in school?
Laniado: Yeah, I'm in school right now and my school is really supportive of me doing this which is so great. I like to be able to balance education and acting because I think education is just as important. It's not something that I should throw away.
Q: Harry Collett was saying he has exams coming up. He's almost finished with school, but he's a little older than you are, right?
Laniado: He's a year older than me (so no worries about exams now).
Q: What will you do when you finish doing press for this film? Do you have another project lined up?
Laniado: I have something actually that I can't really say too much about. But I'd like to be able to do school as well and I'd like to be able to do more auditions, to do more different parts.
Q: Do you have any pets?
Laniado: No, unfortunately, I don't have any pets which is annoying. I'd love to have a pet but I love animals really. I think they are great. They don't ever judge you because they can't understand you. They just are always there for you when you need them. But a hobby of mine? Whenever I'm on holiday I like to surf as well.
Q: If you could talk to animals, what breed or species would you want to talk to and what would be your first question?
Laniado: I'd like to be able to talk to dogs. I guess I'd ask them, "What's it like being a dog?" honestly.
"Dolittle" opens in theaters Jan. 17.