By ANGELA DAWSON
Front Row Features
HOLLYWOOD—As a high-powered Hollywood studio executive, Susan Glatzer helped usher a wide range of films to the big screen in her career, ranging from "Napoleon Dynamite" to "The Apostle" to "Secrets & Lies."
While spinning successful deals in board rooms and over power lunches, what this whiz kid really enjoyed in her limited down time was taking a spin on the dance floor. Specifically, her passion was, and remains, swing dancing. A curly blond, with a bubbly personality to match, Glatzer hoped for years that one of her director friends might document this long popular dance style and the performers who live for it, but that simply didn't happen. Eventually, Glatzer did it herself. The result is "Alive and Kicking," a real-life "La La Land," in which dancers—old and young —reveal their passion for swing. Released through Magnolia Pictures, the feature-length documentary can be seen in theaters, or watched on OnDemand, Amazon Video or on iTunes.
"This was absolutely not a career decision," the budding filmmaker explains of her directorial debut, during an interview at a Los Angeles area dance club. "I have friends who are Oscar-nominated and Oscar-winning directors so I thought I'd have them make this movie for me, and I would produce it."
She says her accidental second career began when she started shooting some footage of swing dancers while she waited for the schedule of a friend, a professional film director, to open up. It didn't.
"I kept shooting and then I just fell into it," she says, sitting alongside one of the subjects of her film, legendary swing dancer Norma Miller (a.k.a. The Queen of Swing), who famously danced with renowned Lindy Hopper "Twist Mouth" George Ganaway at Harlem's famed Savoy Ballroom in the 1930s.
Miller, who maintains a dancer's grace at 97, credits legendary choreographer/dancer Frankie Manning for reviving the Lindy Hop in the 1980s.
"Here was one of the greatest dancers in the world who (during World War II) went to work for the post office so he could get a regular paycheck," she recalls. "He thought it would be for a couple of months but it lasted 37 years. When he retired from the post office, that began the revival. He began to teach it and that's why you have dancers today because of him."
Glatzer and Miller, now living in a Florida retirement home, have an easygoing rapport despite their several-decade age difference. It's their passion for swing that brings them together. Nearing the century mark, Miller explains that she no longer dances but she still loves watching other swing dancers take the floor and is pleased that a whole new generation of dancers are as passionate about the art form as she is. A book about her early life and "discovery" in front of the Savoy Ballroom at age 12 is detailed in a book called "Stompin' at the Savoy: The Story of Norma Miller." She also has been the subject of another feature documentary called "Queen of Swing," that aired on PBS. Having rubbed shoulders with the likes of Ella Fitzgerald, Chick Webb and Benny Goodman, Miller's sensational life and personal anecdotes could fill a few more books and unfold in a few more movies.
For Glatzer, simply getting an opportunity to document the dance that has become her passion over the past two decades is reward enough. It also was an opportunity spotlight social issues through dance and music.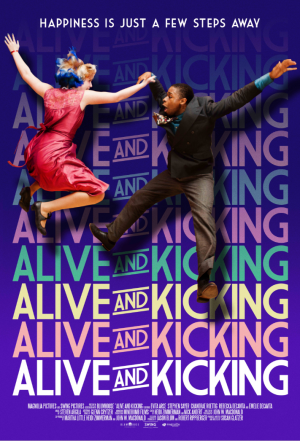 "I'm glad, at the end of the day, that I ended up directing it because there were some things I wanted to say not only about swing dancing but also society today and I wanted to find a way of incorporating it," she says. "I think the way swing dancing talks to these issues is the perfect way to address them. Seeing people in our country being so angry and fractionalized and distrustful of one another and people in other states."
Watching the political polarization in the country troubled her, but she was moved a few years ago by a surprising act of bipartisan unity on the House floor when Arizona Rep. Gabrielle Giffords returned to Congress after recovering from a gunshot wound that nearly killed her.
"You had Democrats and Republicans sitting next to each other—some of them brought corsages for the other—and, as hokey as that might sound, it got people to get along in a way that we don't see that often any more, whether it's politics or anything else," she says. "We spend so much time isolating ourselves from society that it's getting to the point where it's dehumanizing. And what this dance does is it brings people together. People have to shut down their computer and physically gather in a room with other people and share joy, happiness and their imagination. As we say in the movie, 'You can't hate someone you've just had a good dance with.' I believe this dance is healing and it's something we need now more than ever."
Through Glatzer's lens, audiences are given an intimate, insider's view into the culture of the current swing dance world while shedding light on issues facing modern society. Viewers see the performers dance the fast-tempo Balboa and the shag as well as the slower-tempo forms of swing.
"No matter what troubles they are facing in their lives, swing dancers are filled with joy, exhilaration, and even giddiness while they dance," she says. "Swing dancing is all about the pursuit of happiness."