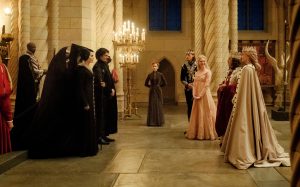 By ANGELA DAWSON
Front Row Features
HOLLYWOOD—Angelina Jolie reprises her multi-layered villainess character in "Maleficent: Mistress of Evil," the live-action sequel to Disney's 2014 live-action hit "Maleficent," which was an update to the 1959 Mouse House animated feature "Sleeping Beauty."
Significant changes have transpired for both the Oscar winning actress ("Girl, Interrupted") and the alternately mercurial and caring character she plays onscreen in the intervening five years. A mother of six—including three non-biological offspring—Jolie has endured intense public scrutiny in the past few years, perhaps more than she's experienced throughout her professional life, especially with the acrimonious divorce from equally famous third husband Brad Pitt. The Hollywood icon and philanthropist also is coming to terms with the fact that her eldest child—Maddox—is now an adult and away at college. Jolie's real-life parenting drama is echoed in the highly anticipated sequel, arriving in theaters this Friday, in which the mighty sorceress is awkwardly learning to let go of her adult godchild/surrogate daughter Aurora (Elle Fanning, reprising her Sleeping Beauty role), who appears to be determined to marry fellow mortal Prince Phillip (Harris Dickinson), despite Maleficent's objections. The first step toward acceptance is meeting Phillip's parents (Robert Lindsay and three-time Oscar nominee Michelle Pfeiffer), who rule a nearby kingdom. Let's just say the dinner gathering at the future in-laws' castle doesn't go well. Pfeiffer's Queen Ingrith's beautiful exterior hides a darkness within her. She is secretly plotting to destroy the non-humans (the fairy-like Feys and other creatures of the moors) that live in and around her kingdom. She also is fueling the conflict between Aurora and her decidedly unpredictable mother-figure, Maleficent, who makes some eye-opening discoveries about her own origins in the film. Despite their differences, Maleficent and Aurora eventually must unite to protect the creatures from destruction.
The sequel is directed by Joachim Rønning, whose credits include another effects-laden sequel, "Pirates of the Caribbean: Dead Men Tell No Tales."
During a recent press conference, the radiant-looking Jolie spoke about reprising her role, the parallels between her character and her own journey as a parent, and coping with the elaborate costumes that could get a little poke-y sometimes.
Q: What does this movie say about family to you?
Jolie: It's all about family. It's about acceptance as well. It is about family. Aurora and Maleficent were first brought together and became a family. They weren't expecting it. Maleficent was harmed in her life and she'd lost herself. She lost her ability to be soft and be loved, and the love of a child—certainly in my life—being a mother brought out something in me that completely transformed me, but we are all different creatures in the film.
There are metaphors in the film—not to be heavy about it—but I always think that a good film for young people has these messages. There's a real question in the film. We get pulled apart and people tell us, "It's because you're not the same. You're not family because you are not exactly like her." That certainly strikes a chord with me.
Maleficent questions whether she's good enough to be a mother and whether she is (Aurora's) mother. So, in the middle of this film we go on different journeys. Aurora finds herself having this idea, "Well, I'm like this. I was born this way so that must be my true nature." And, I (Maleficent) think, 'Well, I'm a creature. I'm like this so that must be my true nature."
So, we go through this period in the middle of the film where everybody's focusing on their differences on how different we are and we go to our own corners and our separate backgrounds or ways of being or who we are and how we're born and then there is a real push to say this is not how it should be. This is not how to live. Diversity makes us stronger and there must be a better way forward and we have to come together. We do that in the film with the humans and the creatures and the Moorfolk coming together. We do that as a family and come together and fight against this separation and we unite and say this is the world we choose to live in. That's a really important message.
Q: What are your favorite costumes from the film and were some any more treacherous than others? One looked like it might poke you.
Jolie: I did actually poke myself often with the one from the (dinner party scene with Price Phillip and his parents), because the horns would flip up. It was terribly hard, but it's all fun. You get so supported in these roles with the magic. Everybody is working toward this idea of helping with the costumes and the visual effects and the makeup to help bring you into a creature. It's a big team and so the costumes are certainly part of it. Some of my costumes were half there and we had to be flying in with rigs and things. The trick sometimes it that I need to look stronger when I'm on the ground but then (the costume) has to float when I'm up in the air, so that's fun.
Q: Could you discuss the importance of self-sacrifice in the film?
Jolie: When we talk about love, there is being your true self but really, the core of it is we're not here just to exist. You have to know what you stand for. You have to know what you will fight for and die for, and if you live that way then whatever pain and sacrifice comes from it you embrace it and it fills you with purpose. That's well represented in the film.
Q: Are there any iconic movie villains that you took inspiration from?
Jolie: I like Michelle (Pfeiffer) as Catwoman.
Q: Why do you think Maleficent is one of the most popular of all your roles? Were you channeling a bit of Bette Davis' haughtiness this time around?
Jolie: When I was little and I saw (Disney's 1959 "Sleeping Beauty") animated film, (Maleficent in that film) clearly was drawn with that inspiration and the original voice, and so I was so drawn to it. Of course, all of those (classic female movie villains)—there's so much to learn from them. Any comparison, I'm very grateful for in any possible way, if it's a scratch or hint of her.
When you're not an actor, you are always trying to figure out who you are and how people see you. You don't know as much (about what people think of you). Maybe now, with social media, everybody knows everybody's opinion. But, as an actor, it's strange. You put yourself forward and everybody says, "Well, that's very you," and you think, "Really? Is it?" When I got a call and they said, "We thought you were the only person who could play Maleficent, it was so obvious," and everybody else says, "It was so obvious," you think, 'I'm really not sure how I'm supposed to take that." (She laughs.) And yet I love her. So maybe I just need to fully embrace it at this time in my life.
Years ago, when we first did ("Maleficent"), I thought, "Well, I need to find the other aspects of her. It's obviously not just completely a bit wild and full on and a bit much and fun." Now, I've been through different things in my life and I was so happy to feel strong again and to have some fun, and I adore being her. There is something about her that I'm very proud that I'm associated with.
Q: Aurora struggles with leaving home and your son Maddox left home for college, recently. Did this role help prepare you for dealing with letting go of your grown child in real life?
Jolie: To be very honest, Maddox was so ready, and he's doing so well. I was actually the most moved because he spent (the week before he left for college) with me. I thought I was preparing him to go and I was being sure he had the right shoes, the right jacket, the right glasses. You get the right everything and you work so hard as a mother and you think, "I'm really helping him." Then, at the airport, he stayed with me a little bit longer, and I thought, "He wants to be with me a little longer," and he looked at me and said, "Are you okay?" I said, "Yeah, I'm fine."
I then realized the entire week had been for me. He was just making sure I was okay and he gave me a really big hug because he knew I needed it and I knew he was okay because he was the kind of man who knew what I needed and he gave it to me in a loving way. I left (the airport) feeling really proud but I did cry a few times.
There is a part of this movie where I have to let Aurora go (after we hug), and it wasn't in the script and I didn't quite let her go. Diaval (her sidekick played by Sam Riley) has to come over and say, "Let her go." That got me every time because I was thinking of all of (my) kids, and that moment that you really have to let them go.