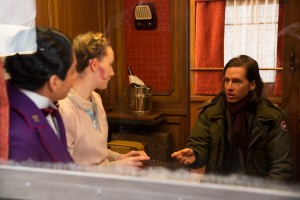 By ANGELA DAWSON
Front Row Features
HOLLYWOOD—On the heels of his commercially successful coastal New England-set comedy "Moonrise Kingdom," filmmaker Wes Anderson's ventures far across the pond to Eastern Europe for his newest comedy adventure, "The Grand Budapest Hotel."
The film jumps around to various time periods, but the main plot revolves around a fussy concierge at a luxury alpine hotel and spa in a fictional country called Zubrowka in the 1930s. Known as Gustave H. or Monsieur Gustave, he takes under his wing a lobby boy, who eventually grows up to become the hotel's manager, and it is that protégé, as an adult, that tells the story of Gustave H. in flashback to a young writer.
The Texas-born Anderson, whose other films include "The Royal Tenenbaums" and "The Fantastic Mr. Fox," co-wrote the screenplay with his friend Hugo Guinness, starting with the Gustave character, which was based on a mutual friend of theirs.
"We had the inspiration and we wrote a section of it, but we couldn't really figure out what happened next," Anderson recalls of the six-year writing process. "There was no hotel and he wasn't a concierge or anything."
Anderson said the script began to take shape when he became interested in the works of Austrian novelist Stefan Zweig.
"We had this idea that it would be in a hotel and (Gustave) would be a concierge," he says. "At that point, (the script) seemed to have the key ingredients, and we wrote the thing very quickly after that. The (design of the) hotel came in later."
Planning for the film began with finding the right location for the hotel. Since the hotel goes through several changes, from it's 1930s heyday when it was a celebrated spa resort to the period when it fell under fascist control to a nearly uninhabited Communist-era construction in its decline, Anderson and his team scoured Europe for a location with character and visual flexibility. He discovered an unexpected kind of back lot in a vast, turn-of the-century department store in the German town of Gorlitz, on the border of Poland and the Czech Republic.
Not only did Anderson and his team build sets inside the store, they also set up their production offices and workshops there, creating an entirely self-contained world that kept cast and crew inside the Zubrowka universe.
"It was the perfect spot and it has a structure of its own with this soaring atrium, beautiful chandeliers and a stained glass ceiling," says production designer Adam Stockhausen. "It even had the concierge area that's the perfect spot."
"We had been looking together at all these old images of hotels," recalls Anderson. "So we had all this research and all these ideas and we scouted around looking at other things. We had all these inspirations to sort of apply when we had this place. It turned out to be a great discovery—that department store."
Anderson wrote the character of Gustave H. with one actor in mind: two-time Oscar nominee Ralph Fiennes.
"Over the years, I've discovered the way to make somebody not want the part is to offer it to them," he jokes. "Maybe it's psychology. Maybe it's just actor psychology. I was locked into it. I only do one movie at a time. I don't have six scripts sitting around and think, 'If this one doesn't go, I'll do the other one'—this is all I've got. And I've only got one guy that I thought could play this, so I was very anxious about it."
The filmmaker admits he had no backup plan had Fiennes said no.
"I don't think I would have accepted him saying no," he says. " I would have been all over him and, at a certain point, he probably would have had to break down.
Luckily for Anderson, Fiennes was just finishing post-production on his self-directed "The Invisible Woman," a drama about Charles Dickens, that was released earlier this year.
The filmmaker says Fiennes' comedic chops were evident in the 2008 crime caper "In Bruges," and he'd also see the actor in a British production of "God of Carnage."
"He was great and so funny in that," he recalls, adding that it didn't matter anyway to him whether Fiennes had a comedy background.
"I don't usually think about if somebody's been in a comedy or not," he says. "I just think if they're really good and they're right for the part, then they'll be fine. There are people that could do a turn at this character but I couldn't think of anybody that I thought could seem like a real person, like this was a real person you might meet. To me, that's what he did."
The filmmaker also called upon his usual repertory of actors including Owen Wilson, Jason Schwartzman, Bill Murray, Jeff Goldblum, Bob Balaban and others for supporting parts in the film. He cast newcomer Tony Revolori as the young lobby boy that Gustave H. takes under his tutelage and ends up on a wild adventure in involving a stolen painting.
Most moviegoers won't be able to see Anderson's latest work right away. It is opening in just a handful of theaters this weekend, in comparison to the green-screen heavy action fantasy epic "300: Rise of an Empire," and the animated family adventure comedy "Mr. Peabody & Sherman," which will be showing on thousands of screens.
"We're not the same audience," says Anderson. "And I don't really love doing green screen; I would rather we make something."
Though green screen wasn't used in "The Grand Budapest Hotel," Stockhausen and his crew created miniatures for various parts of the film, including a miniature of the hotel itself.
"There was the introduction to the hotel, the mountaintop observatory and the whole skiing/sledding/bobsledding sequence," recalls Stockhausen. "It was all miniature work and it's much more—old-fashioned, is one way to put it—but it's also an older way of doing the same thing. It's a handmade way of doing the exact same thing, and it's a lot of fun.
"It's a good '300: Rise of an Empire' counterprogramming," he says with a laugh.
"We use some stuff they might have used in (film pioneer) Georges Melies-type movies, as old as anything," adds Anderson. "But it's digital galore. I mean, at least half of the shots in the movie have some kind of digital element—something we've modified or polished or sped up one thing in the frame or replaced a bit of signage and all of that kind of stuff. It's an amazing kind of luxury."
Anderson also looked to production techniques of the past to create the world of "The Grand Budapest Hotel." He and cinematographer Robert Yeoman, who has shot all of the Anderson's previous live-action movies, came up with an idea to shoot the different time periods in different aspect ratios, using anamorphic widescreen for the 1960s, then switching to a more square format for the 1930s, typical of that time period, and then moving to a widescreen look for the scenes closest to the present-day.
"I always wanted to do a movie in that square shape," reveals Anderson. "Every movie before the 1950s was done that way. It's the look you associate with movies of the period of our story. But I always wanted to do it with a movie that wasn't a period movie. I just liked that shape. I liked that connection to movie history."
He said he wanted to use the square frame format for his first film "Bottle Rocket," but was advised not to do so for commercial reasons, so he was happy finally to be able to incorporate it into this film, and it was possible only because the newer digital technology is accommodating to that format.
"Now that everything is finished digitally, they just press a button and whatever you do is going to be up there," he says.
While the characters in "The Grand Budapest Hotel" are certainly ones that audiences might like to see again, perhaps in a TV show, Anderson says he can't imagine staying one place long enough to do a series.
"The thing with a TV show, first of all, you've got to like settle into one place and stay with this one project for this extended period of time, and I sort of like to do a thing and finish it," he says. "Then, I'm on my next one, and it has a shape over the course of the years. I'm not dying to say, 'With luck I'll be on location in North Carolina for six months of the year, every year for the next seven years.' And that's if the show works. If you get a hit show, you get seven years in North Carolina. If you don't, that's another bad-case scenario of just being canceled. I would rather have different chapters of my working life, if that makes any sense."
Unlike most of his previous comedies, "The Grand Budapest Hotel" contains a fair amount of violence mixed in with the comedy. But that aspect of the film didn't really register with Anderson until he was editing the piece.
"Every 20 minutes or so of this movie, somebody gets their fingers chopped off or decapitated or stabbed or shot—there's blood all through this movie," he admits.
"I was doing some color grading in Paris, and my friend came to sit with me and he brought his daughter and she started covering her eyes, and then I started going, 'Oh no, get ready for this part right here,' and I had never really thought about it that way."
Up until that moment, he had thought about the violence in the movie as funny violence, even thought it was quite brutal.
"But I think that's why the blood is there," he explains. "That's why the violence is there. It's because there's a brutality that's coming, a brutality that's building in the world and it's getting ready to be this suicide of this whole region. Maybe that's the answer."
Over the years, Anderson's filmmaking style that combines quirky characters in offbeat settings has become synonymous with his name. Asked how he feels about people comparing other movies to his or saying they want to make a movie like him, he responds with modest appreciation.
"I like that," he says. "Usually, I might not have seen if they've done that or not. But I just think that's nice. I know who my inspirations have been, and how closely I've wanted to do something like this person or that person, and how many ideas I've stolen from these guys and how many things I've just literally recreated what other filmmakers did."
He points out s a sequence in "The Grand Budapest Hotel" where Jeff Goldblum's character, the executor of a rich old lady's estate, is going to be murdered, that is closely modeled on a scene from Alfred Hitchcock's "Torn Curtain."
"It's nice that there's a continuity and you can see people kind of take something from the other and make it in a new way," he says.