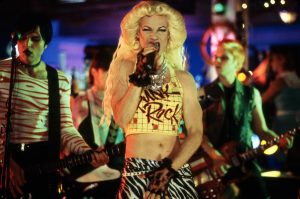 By JAMES DAWSON
Front Row Features Film Critic
"Hedwig and the Angry Inch" has arrived in a Criterion Collection edition on DVD and, for the first time, on Blu-ray. This funny, trashy, bizarre and sometimes genuinely moving 2001 film version of director/star/screenwriter John Cameron Mitchell's musical play is an unforgettable tour de force. The humor often is very dark, and many of its songs (by Stephen Trask) are so true to their 1970s glam rock inspirations that they could have been plucked from a great lost Bowie album. The easiest lazy-critic summation is that this is what you might get if John Waters and Andy Warhol made "Spinal Tap."
What we have here is your basic everyday story of a frustrated, resentful, transsexual East German would-be pop star named Hedwig on a no-budget tour of Red Lobster-type restaurants. She is shadowing the mega-selling concerts of a superstar former significant other who stole both Hedwig's songs and her heart.
There's animation, audience participation, great over-the-top acting that stays on the right side of ultra-camp and terrific music. Best of all, the script and lyrics are so cleverly crafted that the writers accomplished the rare feat of making something uniquely brilliant. Possibly the only other 2001 movie that likewise went out of its way to be so weirdly one-of-a-kind was Christopher Nolan's "Memento."
The new Criterion Collection edition includes a new 4K digital restoration supervised by Mitchell and cinematographer Frank G. DeMarco, who also appear on a commentary track from the year of release. New features include conversation from cast and crew members; Trask and rock critic David Fricke discussing the soundtrack; a 2003 development documentary; a look at the movie's memorabilia; and deleted scenes with commentary by Mitchell and DeMarco. Blu-ray-only extras are portraits of Hedwig by photog­rapher Mick Rock, illustrations by animator Emily Hubley and excerpts from two unlikely-seeming texts that inspired the film: Plato's Symposium and The Gospel of Thomas.