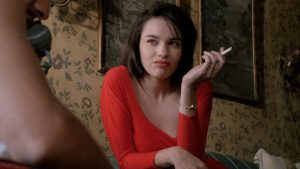 By JAMES DAWSON
Front Row Features
The Criterion Collection Blu-ray edition of "Betty Blue," the third film by stylish French director Jean-Jacques Beineix, presents the tragic erotic romance in its full 185-minute glory. The original 1986 theatrical release, described by its cinematographer as "an amputation," was more than an hour shorter than this director-approved, digitally restored version.
The gorgeously shot 1986 film chronicles the passion, tenderness, frustration and violence of a love affair between a no-ambition handyman who has filled dozens of journals with his writings, and the tempestuously immature woman who insists on helping him get his work published. Her gradual descent into madness and self-destruction is both poignant and disturbing, giving a frightening edge to what starts out seeming to be nothing heavier than a steamily romantic sex farce.
Extras include the excellent hour-long 2013 documentary "Blue Notes and Bungalows," featuring interviews with Beineix, stars Jean-Hugues Anglade and Béatrice Dalle, producer Claudie Ossard, cinematographer Jean-François Robin, and score composer Gabriel Yared. Beineix amusingly describes his use of a lengthy full-nudity sex scene to open the film as "a political statement." He also recalls his insistence than a "totally unknown" actress play Betty, and his good fortune to cast Dalle in her first film role as the unforgettably irresistible title character. For her part, Dalle says, "It was either that or shoplifting."
Anglade's take on the film's shocking ending is that "it's love brought to its absolute ideal." Robin describes how the film's Kodachrome-like colors and "warm and sun-drenched tone" was its visual signature. Yared notes how unusual it was for him to write all of the film's music before shooting began, and relates how he taught Anglade and Dalle to play their onscreen piano duet of the film's haunting theme.
Other extras are a 13-minute "making of" featurette; a French TV interview of Beineix and Dalle; eight minutes of Dalle's funny and very chatty screen test; and a 1977 Beineix short film titled "Le Chien de Monsieur Michel."
Strangely, even though the creation of the movie's original theatrical poster is discussed in detail by both Beineix and Robin, the image appears nowhere in this edition's packaging or 12-page booklet. The large image of Dalle's blue monochrome face floating in a deep blue sky above a beach bungalow was a design so striking that it won the only one of nine César awards for which the film was nominated in France. ("Betty Blue" also received Oscar, Golden Globes and BAFTA nominations for Best Foreign Language Film.) The image has been replaced on the cover of this Blu-ray edition by a color photo of Dalle obscured from her bottom lip down by pink paint, which seems like a questionable marketing decision.
In France, the title of the film (and the Philippe Djian book from which it was adapted) was "37.2 le matin," or "37.2 in the morning." Beineix explains that 37.2 degrees centigrade is the peak temperature for ovulation. He adds that his girlfriend was the one who suggested using "Betty Blue" as the English title, and he immediately agreed. Good call.
The Blu-ray edition is available for a suggested retail price (SRP) of $39.95. The two-disc DVD edition is available for $29.95 (SRP).