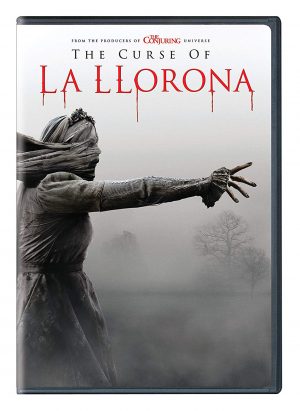 By ANGELA DAWSON
Front Row Features
Movies
The Curse of La Llorona
If you don't know her name, you will when "The Curse of La Llorona" arrives on Blu-ray Combo Pack, DVD and Digital. From New Line Cinema and producer James Wan, "The Curse of La Llorona" brings the iconic Latin American legend to terrifying life in an original horror film, marking the feature directorial debut of Michael Chaves.
The film stars Linda Cardellini ("Green Book," "Bloodline"), Raymond Cruz ("Breaking Bad," "Training Day") and Patricia Velasquez ("Arrested Development," "The Mummy" films). The supporting cast includes Marisol Ramirez ("NCIS: Los Angeles"), Sean Patrick Thomas (the "Barbershop" films), Jaynee-Lynne Kinchen ("Selfless") and newcomer Roman Christou.
Set in 1973 Los Angeles, the supernatural thriller tells the story of Anna Tate-Garcia (Cardellini), a social worker and widowed single mom struggling to balance the two roles while still coping with the loss of her husband.
As a skeptic serving a city of believers, Anna has navigated a multitude of phantoms and superstitions in her job, usually finding personal demons lurking beneath. So, when she's called to the home of Patricia Alvarez (Velasquez) and finds her two young sons locked in a closet, she interprets their terrified mother's desperate efforts to keep them locked away as a dangerous sign of abuse. Though Anna is determined to get Patricia the help she needs, her first concern is the safety of the children. But, because she is unaware of the very real danger they face, Anna has no idea what she's about to unleash—or the devastation it will cause—when she places a psychiatric hold on their mother and takes the kids into protective custody.
In the deepest hours of the night, a haunting cry echoes through the corridors of the children's shelter where the two boys sleep. When their bodies are later pulled from the river, their distraught mother lays the blame at Anna's feet, and leaves her with an eerie warning: La Llorona has her children now but Anna's own could be next. When darkness descends and her kids hear the weeping woman's ominous cries, Anna is forced to confront the reality of Patricia's claims: this legendary spirit is hunting children in modern-day Los Angeles and her own small kids are her prey. With nowhere else to turn, Anna puts her faith in Rafael Olvera (Cruz), a former priest-turned-curandero who has been preparing for this battle all his life. Bringing his powerful faith and arsenal of spiritual totems, Rafael bands together with Anna and her kids as they batten down the hatches and arm themselves for the onslaught when night falls and La Llorona unleashes the full force of her furious supernatural wrath.
"The Curse of La Llorona" was written by Mikki Daughtry and Tobias Iaconis ("Five Feet Apart") and will be available on Blu-ray Combo Pack and DVD. The Blu-ray Combo Pack features a Blu-ray disc with the film and special features in hi-definition, a DVD with the film in standard definition and a Digital version of the movie.
"The Curse of La Llorona" also be available on Movies Anywhere. Using the app, consumers can access all their eligible movies by connecting their Movies Anywhere account with their participating digital retailer accounts.
Plus One
RLJE Films will release "Plus One" Tuesday Aug. 6, on DVD and Blu-ray. Written and directed by Jeff Chan ("Adam Ruins Everything") and Andrew Rhymer ("Pregame"), the comedy stars Maya Erskine ("PEN15", "Casual"), Jack Quaid ("The Boys," "The Hunger Games"), Ed Begley, Jr. ("Arrested Development"), Beck Bennett ("Saturday Night Live"), Rosalind Chao ("Mulan"), Brianne Howey ("The Passage"), Jon Bass ("Miracle Workers") and Finn Wittrock ("American Horror Story").
Long-time friends Alice and Ben find themselves in that inevitable year that all late 20-somethings experience—in which seemingly every person they know gets married—and agree to be one another's plus ones as they power through an endless parade of insufferable weddings. Extras include deleted and extended scenes.
"Plus One" will be available on DVD for a suggested retail price (SRP) of $27.97 and Blu-ray $28.97 (SRP).
Pokémon Detective Pikachu
Watch the world of Pokémon come to life in Ryme City when Warner Bros. Pictures and Legendary Pictures' "Pokémon Detective Pikachu" arrives Tuesday Aug. 6 on 4K UHD Combo Pack, Blu-ray Combo Pack, DVD, Special Edition and Digital.
For a limited time only, the 4K UHD Combo Pack, Blu-ray Combo Pack, and DVD Special Edition will include a special Pokémon Trading Card Game card.
The first-ever live-action Pokémon adventure, "Pokémon Detective Pikachu" stars Ryan Reynolds (the "Deadpool" films) as Detective Pikachu and is based on the beloved Pokémon brand—one of the world's most popular, multi-generation entertainment properties and most successful media franchises of all time.
With Detective Mode on Blu-ray, watch "Pokémon Detective Pikachu" like you've never seen it before and discover a world of hidden clues, behind-the-scenes footage, pop-up trivia, Pokémon facts, fun featurettes, Easter eggs and more.
The film also stars Justice Smith ("Jurassic World: Fallen Kingdom") as Tim and Kathryn Newton ("Lady Bird") as Lucy, a junior reporter following her first big story. The supporting cast includes Suki Waterhouse ("Insurgent,"), Omar Chaparro ("Overboard"), Chris Geere ("Modern Family"), multi-platinum-selling singer-songwriter Rita Ora ("Fifty Shades of Grey"), Oscar nominee Ken Watanabe ("The Last Samurai") and Bill Nighy ("Love Actually").
"Pokémon Detective Pikachu" was directed by Rob Letterman ("Goosebumps," "Monsters Vs. Aliens"), from a story by Dan Hernandez, Benji Samit and Nicole Perlman, with the screenplay by Hernandez, Samit, Letterman and Derek Connolly. The characters are based on the "Detective Pikachu" video game developed by Creatures Inc.
The 4K Ultra HD Blu-ray disc of "Pokémon Detective Pikachu" features HDR that dramatically expands the color palette and contrast range. The 4K Ultra HD Blu-ray disc of "Pokémon Detective Pikachu" also feature a Dolby Atmos soundtrack remixed specifically for the home theater environment. "Pokémon Detective Pikachu" will also be available on Movies Anywhere. Using the free Movies Anywhere app and website, consumers can access all their eligible movies by connecting their Movies Anywhere account with their participating digital retailer accounts.
The Swan Princess: Kingdom of Music
"The Swan Princess: Kingdom of Music" is coming to Digital and DVD Tuesday Aug.6.
In the newest film in the series, "The Swan Princess: Kingdom of Music," our favorite princesses are back in an all new feature-length musical adventure. Princess Odette is hosting a music competition to celebrate Princess Alise's birthday—the winner will sing at her grand birthday ball. Prince Li of Cathay has entered, but his sister Princess Mei Li has stowed away on his ship to seek help from Odette and Derek for Chen, who has been cursed to live as a dragon. Lucas and Alise are reunited but Prince Li's arrival makes Alise doubt her feelings. While Li and Lucas fight for Alise's heart, Derek and Odette try to help Mei Li and Chen break the curse.
Included with the "Kingdom of Music" DVD are interactive sing-alongs featuring two all-new toe-tapping tunes from the film and a behind-the-scenes featurette that explores how the world and characters of the film were brought to life.
Also, this year marks the 25th Anniversary of the longrunning franchise that began with "The Swan Princess," a magical musical animated adventure that featured the voices of Jack Palance, John Cleese, Steven Wright, Sandy Duncan and Michelle Nicastro. That 1994 animated feature captured hearts around the world and Sony will also be releasing the 25th Anniversary remastered collector's edition of "on Oct. 29.
TV Shows
The Best of the Carol Burnett Show: 50th Anniversary Edition
On Sept. 11, 1967, Carol Burnett and her madcap cast took to the airwaves on CBS for a new variety series that combined sketch comedy, singing and dancing. Little did they know that "The Carol Burnett Show" would become an Emmy Award-winning program and survive the changing tastes of TV audiences to last eleven seasons.
Available at retail for the first time starting Tuesday Aug. 6, "The Best of Carol Burnett: 50th Anniversary Edition" brings together the best of the best—60 hand-picked episodes covering every season—into one singular and uproarious set. This ultimate Burnett collection is priced at $249.98 (SRP), and contains 21 discs and incredible, exclusive bonus features specially-created by the Time Life TV DVD archivists including exclusive interviews, a cast reunion and backstage tour of Studio 33, never-before-seen outtakes and featurettes.
Aside from the numerous classic sketches, hilarious movie take-offs, elaborate production numbers and mini-musicals, "The Carol Burnett Show" also boasted guest appearances from the 20th century's biggest and most talented stars including Lucille Ball, Sammy Davis Jr., Phyllis Diller, Ella Fitzgerald, Rita Hayworth, Rock Hudson, Bernadette Peters, Carl Reiner, Burt Reynolds, Don Rickles, Neil Sedaka, Lily Tomlin, Flip Wilson, Andy Griffith, Chita Rivera and others.
The Good Place: The Complete Third Season
The hit comedy hit "The Good Place: The Complete Third Season" is available now on DVD, courtesy Shout! Factory.
From creator Michael Schur ("Brooklyn Nine-Nine," "Parks and Recreation) comes a unique comedy about what makes a good person. The show follows Eleanor (Kristen Bell, "Veronica Mars"), Chidi (William Jackson Harper), Tahani (Jameela Jamil), and Jason (Manny Jacinto)—ordinary people who enter the afterlife, and thanks to some kind of error, find themselves in The Good Place instead of The Bad Place—which is definitely where they belong.
At the end of Season 2, Michael (Ted Danson in an Emmy Award-nominated performance) and Janet (D'Arcy Carden) appeared in front of the Judge (Maya Rudolph, also Emmy Award-nominated) to argue that the humans may have been judged unfairly and deserve a second chance. With a snap of her fingers, the Judge sent the humans back to Earth, in a new timeline where they never died.