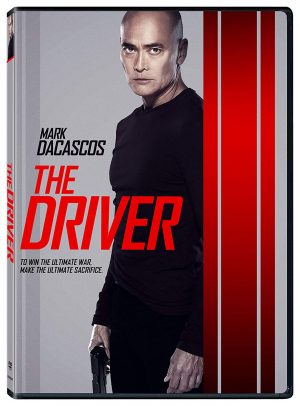 By ANGELA DAWSON
Front Row Features
Movies
The Driver
From action filmmaker Wych Kaosayananda, director of "Ballistic: Ecks vs. Sever," comes the action-packed zombie thriller, The Driver, arriving on Digital, On Demand and DVD Tuesday Nov. 26, from Lionsgate.
Starring legendary martial arts actor and television personality Mark Dacascos ("John Wick 3"), the film also stars Dacascos's real-life wife Julie Condra ("Eerie, Indiana") and daughter Noelani Dacascos ("Oh Lucy!").
After a plague of the undead decimates human life on earth, a former hit man (Dacascos), his wife (Condra), and daughter, Bree (Noelani Dacascos), live quietly in a survivalist compound. But when their base is attacked, a massive explosion summons a swarm of the undead. They escape and must seek out the Haven—a rumored sanctuary up north—while the father teaches his daughter to shoot, drive, and survive before time runs out.
"The Driver" DVD will be available for the suggested retail price (SRP) of $19.98.
Eegah
"Eegah," returns to the spotlight for a special-edition release Tuesday Nov. 26 from The Film Detective (TFD), a leading classic media streaming network and film archive that restores classic films for today's cord-cutters. TFD will release a collector's set for any cult fan that includes a 4K restoration of Eegah (1962); the 1993 "Mystery Science Theater 3000" ("MST3K") version of the film; and exclusive interviews with star Arch Hall Jr., who portrayed the local teenage hero, and MST3K creator Joel Hodgson.
Originally designed as a vehicle for his son, filmmaker Arch Hall Sr. assumed the roles of writer, producer, director, and actor to bring the film to fruition, utilizing pseudonyms like "Nicholas Merriwether" and "William Watters" to prevent his name from appearing multiple times in the credits.
Incorporating all of the rock 'n' roll, pop culture staples of the '60s, he added a rampaging, seven-foot-tall Neanderthal to create the thrilling comedy, which follows Eegah (Richard Kiel), a prehistoric caveman who is nearly run over by Roxy Miller (Marilyn Manning) on her way to a party. Forming a romantic interest in the young beauty, Eegah holds Roxy and her father (Hall Sr.) captive in his lair. It's up to local gas station attendant Tom Nelson (Hall Jr.) to rescue his sweetheart from the raving brute.
Despite its campy prehistoric origins, the legacy of "Eegah" has stood the test of time. In 1993, the movie was picked up for an episode of "MST3K," a comedy series that made playful commentary on entertainment's most-notorious B-movies, revived on Netflix in 2017. The episode further immortalized the film's most famous, satirical line, "Watch out for snakes," a comment noticeably dubbed during post-production. Eegah embedded itself so deeply into the culture of "MST3K," that the show took to the road in 2017 for a live Watch Out for Snakes Tour.
Additionally, Something Weird Video, an American film distributor dedicated to the preservation of exploitation films, has served as an integral part of "Eegah's" preservation.
Exclusive special features on this special-edition release include Joel Hodgson, creator of "MST3K," giving his take on the Hall family and his evolving appreciation for the film following the 1993 episode; and the star himself, Arch Hall Jr., sharing personal insights on his father's spur-of-the-moment plot idea, revealing which of his family members appear in cameos throughout the film and offers behind-the-scenes details from production.
With a 4K restoration by Peter Conheim from the Cinema Preservation Alliance, "Eegah" is available for purchase from TFD on limited-edition Blu-ray for $24.99 (SRP) and on DVD for $19.99 (SRP). The film is presented in HD with an aspect ratio of 16×9 and original sound with English subtitles available.
Mary
RLJE Films, a business unit of AMC Networks, will release "Mary" Tuesday Nov. 26, on DVD and Blu-ray. The horror film stars Academy Award winner Gary Oldman ("Darkest Hour," "The Dark Knight").
David (Oldman) is a struggling blue-collar captain looking to make a better life for his family. Strangely drawn to an abandoned ship that is up for auction, David impulsively buys the boat, believing it will be his family's ticket to happiness and prosperity. But soon after they embark on their maiden journey, strange and frightening events begin to terrorize David and his family, causing them to turn on one another and doubt their own sanity. With tensions high, the ship drifts off course, and it becomes horrifyingly clear that they are being lured to an even greater evil out at sea.
"Mary" also stars Emily Mortimer ("Mary Poppins Returns" "Lars and the Real Girl"), Manuel Garcia-Rulfo ("Murder on the Orient Express," "The Magnificent Seven"), Stefanie Scott ("Beautiful Boy," "Insidious: Chapter 3"), Chloe Perrin ("Single Parents," "The Diabolical"), Douglas Urbanski ("RoboCop," "The Social Network"), with Jennifer Esposito ("The Boys," "NCIS") and Owen Teague (It, It Chapter 2). The film was directed by Michael Goi ("American Horror Story," "Scream Queens") and was written by Anthony Jaswinski ("The Shallows," "Kristy").
Bonus features include a making-of featurette and "A Family at Sea: The Cast of Mary."
RLJE Films will release "Mary" on DVD for an SRP of $29.96 and Blu-ray for an SRP of $29.97.
Official Secrets
Keira Knightley plays a real-life whistleblower in the espionage thriller "Official Secrets,", available now on Digital and landing on DVD + Digital Tuesday Nov. 26, from Paramount Home Entertainment.
The film reveals the true story of British intelligence specialist turned whistleblower, Katharine Gun (Knightley). From award-winning director Gavin Hood ("Eye in the Sky"), the movie features Matt Smith ("Doctor Who"), who portrays Martin Bright, the real-life investigative journalist who broke the stunning story, Matthew Goode ("Downton Abbey") as one of Bright's colleagues, and Academy Award nominee Ralph Fiennes as Gun's determined lawyer.
In 2003, British intelligence specialist Katharine Gun (Knightley) received a memo with a shocking directive: collect blackmail-worthy information on UN council members to force the vote for the invasion of Iraq. Unable to stand by and watch the world rush into war, Gun makes the decision to leak the memo to the press, igniting an international firestorm that would expose a vast political conspiracy and put Gun in harm's way.
The "Official Secrets" DVD includes the film in standard definition, as well as a Digital Copy of the film in high definition.
TV Shows
Line of Duty
Acorn TV features the DVD debut of the highest-rated U.K. program of the year and BBC One's critically adored cop thriller, "Line of Duty," Tuesday Nov. 26.
Written and created by Jed Mercurio ("Bodyguard"), "Line of Duty" is a cat-and-mouse thriller that takes a probing look into modern police corruption. Each season features a new guest lead (or leads); Season 5 stars Stephen Graham ("Boardwalk Empire," "Peaky Blinders") and Rochenda Sandall ('Black Mirror') alongside series regulars Martin Compston ("The Great Train Robbery," "Sweet Sixteen") as DS Steve Arnott, Vicky McClure ("Broadchurch") as DS Kate Fleming, and Adrian Dunbar ("Blood") as Supt. Ted Hastings.
Featured in a two-disc DVD set, this six-part series previously premiered exclusively on Acorn TV in May. Also debuting on Nov. 26 is "Line of Duty," Series 1-5 Collection (11-Disc Set, $124.99). AMC Networks owns Acorn TV, which is one of North America's most popular and largest streaming service featuring quality television from Britain and beyond.
"Line of Duty" follows anti-corruption unit 12 (AC-12) as they investigate fellow police officers accused of corruption. In Series 5, Stephen Graham stars as John Corbett, the ruthless leader of an organized crime group who hijacks a seized drug transport. AC-12 investigators suspect corrupt police officers of leaking information. As the body count rises, AC-12 realize they're facing their most vicious adversary yet.
London Kills
Acorn TV features the DVD and Blu-ray debut of the Acorn TV Original British crime drama "London Kills, Series 2," on Tuesday Nov. 26.
From three-time BAFTA Award nominee Paul Marquess, the creator of "Suspects," "London Kills" stars Hugo Speer ("The Full Monty," "Father Brown"), Sharon Small ("Inspector Lynley Mysteries," "Murderland"), Bailey Patrick ("Bodyguard," "EastEnders"), and newcomer Tori Allen-Martin as a team of top murder detectives in the world's most recognizable city.
The elite murder squad returns. As the detectives solve each case – skeletal remains dug up in the garden, the brutal murder of a pub landlord, a teenage au pair found dead, the double-shooting of a father and son – there's one mystery Detective Inspector David Bradford can't unravel. Where is his wife Sarah? As the other detectives investigate why David is lying to them about the night Sarah disappeared, they begin to think the unthinkable—did the detective Inspector murder his wife?
The five-part series follows a different murder each episode and an ongoing story involving the lead detective's missing wife. Available in a two-disc DVD/Blu-ray, Acorn TV's first straight-to-series commission originally premiered exclusively on Acorn TV in July, and is available for $39.99 each (SRP).