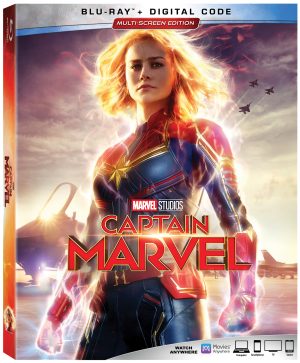 By ANGELA DAWSON
Front Row Features
Movies
Captain Marvel
Marvel Studios' "Captain Marvel" arrives on Blu-ray and Blu-ray 4K Ultra HD Tuesday June 11. It also is available now on Digital in HD and 4K Ultra HD.
Set in the 1990s, "Captain Marvel" is an all-new adventure from a previously unseen period in the history of the Marvel Cinematic Universe (MCU) that introduces its first stand-alone, female-franchise title character—Carol Danvers a.k.a. Captain Marvel.
When we first meet Danvers, she already possesses her superhero powers, having left her earthly life behind and become a member of an intergalactic elite Kree military team called Starforce, led by their enigmatic commander, Yon-Rogg. But after Danvers has trained and worked with the Starforce team, and become a valued member­, she finds herself back on Earth with new questions about her past. While on Earth, she quickly lands on the radar of Nick Fury, and they must work together against a formidable enemy in the form of the Skrulls—the notorious Marvel bad guys made even more dangerous by their shape-shifting abilities—and their leader, Talos, who is spearheading a Skrull invasion of Earth.
Based on the beloved Marvel comic-book series, first published in 1967, "Captain Marvel" stars Academy Award winner Brie Larson ("Room," "Kong: Skull Island") as Carol Danvers/Captain Marvel, Samuel L. Jackson ( "Avengers: Age of Ultron," "The Hateful Eight") as Nick Fury, Ben Mendelsohn ("Rogue One: A Star Wars Story," "Mississippi Grind") as Talos, with Annette Bening ("American Beauty," "20th Century Women") as Supreme Intelligence, with Clark Gregg ("Marvel's The Avengers," "Agents of S.H.I.E.L.D.") as Agent Coulson and Jude Law ("Sherlock Holmes," "Fantastic Beasts: The Crimes of Grindelwald") as Yon-Rogg.
The fantasy action film also includes a supporting cast that includes Djimon Hounsou ("Blood Diamond," "Guardians of the Galaxy") as Korath, Lee Pace ("The Hobbit: An Unexpected Journey," "Guardians of the Galaxy") as Ronan, Lashana Lynch ("Bulletproof," "Brotherhood") as Maria Rambeau, Gemma Chan ("Crazy Rich Asians," "Humans") as Minn-Erva, Rune Temte ("Eddie the Eagle," "The Last Kingdom") as Bron-Char, Algenis Perez Soto ("Sugar," "Isolated Victim") as Att-Lass, Mckenna Grace ("Gifted," "I, Tonya") as Young Carol Danvers and Akira Akbar ("Grey's Anatomy") as Monica Rambeau.
Marvel Studios' "Captain Marvel" is produced by Kevin Feige and directed by Anna Boden and Ryan Fleck ("Half Nelson," "Sugar"). Louis D'Esposito, Victoria Alonso, Jonathan Schwartz, Patricia Whitcher and Stan Lee are the executive producers. The story is by Nicole Perlman and Meg LeFauve and Boden, Fleck and Geneva Robertson-Dworet, and the screenplay is by Boden, Fleck and Robertson-Dworet.
With an extensive line-up of extras, the home entertainment versions of "Captain Marvel" include featurettes that highlight the transformative journey of Larson into Captain Marvel and her character's impact on audiences around the world; the influence of Nick Fury (Jackson) on significant events within the MCU; the complementary pairing of directors Boden and Fleck; the ongoing conflict between the Skrulls and the Kree; and the raw talent behind the scene-stealing feline, Goose. Viewers also gain access to six deleted scenes, directors' commentary, a gag reel loaded with funnies, flubs and Flerkens, and never-before-seen concept art and production photography.
Forrest Gump
In 1994, moviegoers met a man named Forrest Gump whose story was both a deeply personal and affecting odyssey and a universal meditation on our times. A quarter-century later, the Robert Zemeckis-directed drama "Forrest Gump" remains a treasured cinematic classic that is beloved around the world. Two-time Oscar winning actor Tom Hanks ("Forrest Gump," "Philadelphia") gives an astonishing performance as the title character, an Everyman whose simple innocence comes to embody a generation.
The 25th anniversary newly remastered two-disc Blu-ray is available now on 4K Ultra HD and Digital. This release includes more than three hours of bonus content including the complete originally released special features including commentaries with the filmmakers, along with screen tests, behind-the-scenes with visual effects, sound and makeup.
Alongside his mamma (Sally Field), his best friend Bubba (Mykelti Williamson), his commanding officer Lieutenant Dan (Gary Sinise), and his favorite girl Jenny (Robin Wright), Forrest has a ringside seat for the most memorable events of the second half of the 20th century.
The film was adapted for the screen by Eric Roth and is based on the novel by Winston Groom, and won six Academy Awards—Best Picture, Best Director (Zemeckis), Best Actor (Hanks), Best Writing (Roth), Best Film Editing and Best Visual Effects.
In addition, on June 23 and June 25, "Forrest Gump" will return to the big screen in more than 600 theaters nationwide for two screenings each day as Fathom Events and paramount present the film. For information and tickets, visit www.FathomEvents.com.
The Sower
Marine Francen's award-winning debut feature, "The Sower," arrives on DVD and Digital Tuesday June 11, from Film Movement.
"The Sower" is a sensual, visually stunning romance set in the 19th century French countryside, part of a new wave of female-focused historical drama. Set in 1851, France's autocratic President Louis-Napoleon Bonaparte has ordered the arrest of all the men of a remote mountain farming village following a Republican uprising. The women spend years in total isolation, forced to tend the crops themselves. Some women have lost their husbands; others, like the shy but inwardly strong Violette, suddenly have no chance of experiencing physical love or motherhood. The women take an oath: if a man comes, they will share him as a lover. When a mysterious and handsome stranger arrives, he ignites passions and jealousies that threaten to destroy the tight-knit community. "The Sower" DVD is available for $24.95 (SRP).
13 Hours: The Secret Soldiers of Benghazi
Director Michael Bay's powerful and engrossing drama "13 Hours: The Secret Soldiers of Benghazi" arrives on 4K Ultra HD Disc and Digital Tuesday June 11, from Paramount Home Media Distribution.
With four times the resolution of HD, 4K Ultra HD delivers an immersive experience with exceptional vibrancy and contrast, creating images that are astonishingly vivid and lifelike. Debuting just in time for Father's Day, the "13 Hours: The Secret Soldiers of Benghazi" 4K Ultra HD Combo Pack includes the film in 4K Ultra HD as well as a second Blu-ray Discwith more than an hour of bonus content. Go behind-the-scenes with the ex-military operators recounting the extraordinary detail involved in recreating the events from the attack. Plus, join the cast and crew as they highlight the filmmaking process and how director Bay brought the film to life. The set also includes access to a digital copy of the film.
Starring John Krasinski ("Tom Clancy's Jack Ryan"), James Badge Dale ("World War Z") and Pablo Schreiber ("Orange is the New Black"), "13 Hours: The Secret Soldiers of Benghazi" tells the incredible true story of six elite ex-military operators who fought to protect the CIA against overwhelming odds when terrorists attacked a U.S. diplomatic compound on Sept. 11, 2012.
TV Shows
Game of Thrones
The epic final run of HBO's television phenomenon, "Game of Thrones: Season 8," is now available to own on Digital Download. In addition to the hit series' concluding six episodes, the purchase includes the two-hour feature documentary "Game of Thrones: The Last Watch," by filmmaker Jeanie Finlay, and two featurettes: "The Long Night" and "The Final Season."

In its final season of duplicity and treachery, nobility and honor and an epic clash between the living and the dead, "Game of Thrones: Season 8" answers a myriad of questions surrounding the fate of the series' protagonists. Will the revelation that Jon Snow is a Targaryen, and the legitimate heir to the Iron Throne, undermine his relationship with Daenerys? How will Sansa, Arya and Bran—not to mention numerous northern Houses allied with the Starks—react to the appearance of traditional foes at the gates of Winterfell? Will Cersei's devious strategy of fortifying her defense of King's Landing yield dividends? And above all: can the Army of the Dead be defeated?
This season is executive produced by David Benioff, D.B. Weiss, Carolyn Strauss, Frank Doelger, Bernadette Caulfield and co-executive produced by Bryan Cogman, Guymon Casady, Vince Gerardis and George R.R. Martin.
Extras include the featurette, "The Final Season," in which the cast and crew of "Game of Thrones" reflect on the final season of HBO's epic, Emmy(R)-winning series. Interviews include show runners Benioff and Weiss, along with stars Peter Dinklage, Emilia Clarke, Lena Headey, Kit Harington, and many others. The other extra is "The Long Night," in which Benioff and Weiss along with many of the major stars and behind-the-scenes players as they look back at the colossal filming that was the Battle of Winterfell in Season 8, episode 3. This special spotlights the weaponry, lighting, special effects and more that went into the making of this classic episode.
Earning a total of 132 Emmy nominations and 47 wins to date, "Game of Thrones: Seasons 1-8" is also now available to own on Digital, with select bonus content from each individual season, as well as the "Game of Thrones: The Last Watch" documentary.
Lost in Space
Twentieth Century Fox Home Entertainment's "Lost in Space: The Complete First Season" (a reboot of the 1960s sci-fi TV series) is available now on Blu-ray and DVD.

Set 30 years in the future, this epic reimagining of the original family space adventure ­finds the Robinsons torn off course en route to what they hoped would be a fresh start on a distant space colony. Against all odds, but with endless hope and extensive training, the family bands together to survive on a dangerous alien planet.

The series stars Toby Stephens ("Black Sails," "Die Another Day") as John Robinson, and Molly Parker ("House of Cards," "Deadwood") as Maureen Robinson. As the Robinson kids, Taylor Russell ("Falling Skies") is the strong-willed and confident Judy, Mina Sundwall ("Maggie's Plan," "Freeheld") is the quick-witted and definitive middle-child Penny and Max Jenkins ("Sense8," "Betrayal") is the curious and sensitive Will Robinson.
Stranded along with the Robinsons are two outsiders who find themselves thrown together by circumstance and a mutual knack for deception, the unsettlingly charismatic Dr. Smith played by Parker Posey ("Cafe Society," "Mascots") and the inadvertently charming Don West, played by Ignacio Serricchio ("Bones," "The Wedding Ringer"). The series is produced by Legendary Television and written by Matt Sazama and Burk Sharpless ("Dracula Untold," "The Last Witch Hunter"). Zack Estrin ("Prison Break") serves as showrunner.
Marcella
"Marcella: Season Two" arrives on DVD Tuesday June 11 from Acorn. Anna Friel ("Pushing Daisies") reprises her International Emmy-winning role as DS Marcella Backland, a London police detective haunted by violent blackouts. When a body is found inside a wall, Marcella is horrified to discover that she knew the victim: a young boy who went missing years ago while walking home with her son. As more corpses turn up, Marcella wades through a complex web to catch a serial killer, but her deteriorating mental state threatens to derail the investigation.
From award-winning writer Hans Rosenfeldt ("The Bridge"), "the British series boasts an all-star cast that includes Jason Hughes ("Midsomer Murders"), Victoria Smurfit ("Trial & Retribution"), Ray Panthaki ("Colette"), Jamie Bamber ("Battlestar Galactica") and Peter Sullivan ("The Borgias").
The two-disc DVD set includes all eight episodes of the second season. The suggested retail price is $49.99.
Front Row Features has some action-packed giveaways this week. In addition to giving away a copy of the gripping "13 Hours: The Secret Soldiers of Benghazi" on 4K Ultra HD to two lucky readers, we're giving away a digital copy of the much-talked about final season of HBO's hit series, "Game of Thrones." To enter the contests, simply email socalmovieeditor@aol.com by June 17 with the title which release you want to win in the subject line. Good luck!