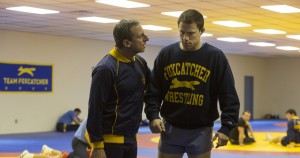 By ANGELA DAWSON
Front Row Features
HOLLYWOOD—Steve Carell and Channing Tatum are best known for starring in light comedies and romantic dramas, respectively. Neither has played characters as dark, lonely and complex as the ones they portray in Bennett Miller's "Foxcatcher."
The drama centers on the bizarre relationship between chemical company heir John du Pont (an almost unrecognizable Carell) and wrestling's Olympic gold medalist Mark Schultz (Tatum). The millionaire invites Mark to live and train with other wrestlers he has assembled at his Pennsylvania estate after the athlete has fallen on hard times following his success at the 1984 Olympics.
Single and nearly friendless, except for his older brother, Dave, also a champion wrestler, Mark agrees to go. Once he arrives at sprawling Foxcatcher Farm, du Pont appoints himself head coach of his team of wrestlers, eager to win the respect of his peers and the approval of his cold and distant mother (Vanessa Redgrave).
The relationship between Mark and du Pont deepens, but du Pont's mercurial personality and fondness for head games begins to weigh on Mark's faltering self-esteem. Miller ("Moneyball," "Capote") and writers E. Max Frye and Dan Futterman, purposely leave the extent of men's relationship ambiguous. Regardless of whether they were lovers or not, there is an obvious and unhealthy connection between the two. When Mark's brother, Dave (Mark Ruffalo) arrives with his wife and children to also train at the facility, du Pont's paranoia and jealousy—fueled by cocaine—turn deadly.
*Login to view entire content. This content is available for PURCHASE for reprint rights.
Register & Purchase