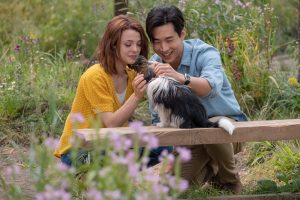 By ANGELA DAWSON
Front Row Features
HOLLYWOOD—When popular Asian musician/actor Henry Lau was offered his first English-language role in "A Dog's Journey," he initially didn't realize how important it was for him to accept it. After all, the character he plays in the film also is the Caucasian female protagonist's love interest—still a rarity for Asian actors in a Hollywood movie. But his friends, advisers and family convinced him to do so.
"Then, all of a sudden, I have this responsibility to do a good job," the 29-year-old heartthrob explains.
Born in Toronto to a father from Hong Kong and a mother from Taiwan, Lau plays a Korean-American in the film named Trent, who finally gets past the "friends zone" with gal pal CJ (played by Kathryn Prescott). The two grow up together and Trent is always there for CJ, who has a rocky relationship with her mother that leads to some challenges for her as an adult. Lau, who spent part of his life in Korea and understands first-hand being a first-generation Asian-North American, was given free range by director Gail Mancuso to develop his character.
A music prodigy—he is an expert on the violin, piano and guitar—Lau studied at the Canadian Royal Conservatory of Music before joining Super Junior-M, an offshoot of the South Korean boy band called Super Junior in 2008. He later went solo and began acting on various TV series in Southeast Asia and China. He co-starred alongside Michelle Yeoh in 2013's South Korea-Thai drama "Final Recipe."
While "A Dog's Journey," a sequel to the successful 2017 "A Dog's Purpose," based on W. Bruce Cameron's bestselling book, is primarily about a dog (voiced by Josh Gad) that is reincarnated again and again and spends his various lives devoted to protecting CJ, it also incorporates a love story between CJ and Trent, who became friends as children and remained close into adulthood—with Trent always there as the one person willing to help CJ through her tough times. CJ finally gets to aid Trent as he fights a heroic battle against cancer.
Lau spoke about embarking on his first English-language film, paving the way for other Asian actors in Hollywood films and what's ahead.
Q: Was part of your reason for doing this film because of your love of dogs?
Lau: I've always loved dogs. I've always wanted a dog but my parents never let me have a dog. They let me have a pet bird.
Q: Aren't birds a lot more work?
Lau: Not really. This one was like a dog-bird. He would fly over to me and land on my head. It was nice to be part of this movie because then I could pretend I had a dog.
Q: Your character, Trent, adopts a Beaglier named Rocky. How was it working with your four-legged co-star?
Lau: Rocky was cool. The difficult thing about acting with this movie is that there were so many dogs. And they're all cute so you constantly just want to pet them. But that actually helped with the acting because the emotions are so real.
Q: How did this role come your way?
Lau: I was on the set of a Chinese movie, in China, fighting dragons and doing all the martial arts. And I get a call from Gail, and she tells me about the character, "Trent." I was like, "That sounds like me." She told me more about the script and I read the script and then I said, "I'm in!" This is my first Western feature film. I really happy to be doing my first American film but also to be part of such an amazing story that will bring a little more light to people's lives.
Q: You're originally from Canada, right?
Lau: Yeah. I was born and raised in Toronto. After high school, my family moved to Korea. Started the whole K-Pop thing right when it first started. Now, thanks to all the fans and the support, I'm here shooting in Hollywood. I didn't know how important this role was to the Asian community because it's very very rare that an Asians gets to be the romantic lead in a Hollywood film. I didn't realize that until people around me told me that it's very rare.
Q: How did you get on director Gail Mancuso's radar?
Lau: I don't know but to my knowledge there were only a handful of actors in Asia that are in my age group, that looked a certain way, that could speak English as a native language. I guess I was just lucky; at the right place at the right time.
Q: Did Gail allow you to improvise?
Lau: She let us do what we feel. I play a Chinese-American, she came to me and asked me things like, "Do you speak Chinese at home? Do you speak English?" I said, what usually happens in an immigrant home is that the children speak English and the parents speak in their native tongue.
Q: Did you do a chemistry-check video with Kathryn Prescott?
Lau: We didn't. I think the first time we met was a week before we started shooting. I was a little worried, at first, because you don't know. Then we sat down together with Gail, and I knew it was going to be good. I had the sense that our chemistry would be really good.
Q: Did you relate to Trent?
Lau: Ian Chen, who plays the younger Trent, is a lot like me. I saw clips of him before we shot this film and people would say how much he reminded them of me. Trent starts out as kind of his studious, nerdy guy and I was pretty similar when I was younger because all I used to do was practice the violin because I was a classical musician. And then I made my transition to pop music and hip hop. Trent also makes a transition to New York, so there are a lot of similarities there. The role was very similar to me. One big difference was him getting cancer. I had no knowledge of that. For that, I had to do a lot of research. There are a lot of things that happen in this film that also happens in a lot of people's lives. A lot of kids may watch this and see that there are other families that go through similar crises.
Q: CJ suffers from stage fright. Have you ever had to cope with that?
Lau: She was nervous about doing it. I'm a musician but she plays a musician in this and she practiced so much. She really was nervous to do it. At first you have to fake confidence.
Q: Who's the Trent in your life—someone who has your back?
Lau: That would definitely be my family. Always have been supportive. They've been with me the whole way. They can finally understand what I'm saying on TV. This is my first English-language film.
Q: Since "A Dog's Journey" is about a journey and finding your purpose, what do you think your purpose?
Lau: I know I'm here for some reason. I don't know exactly what it is. I'm finding my purpose. Few people out there know their purpose. I feel like I've been given this opportunity to be in a place where I can affect people. Through tools of acting, music, I affect people in a positive way.
Q: How has the transition been from pop star to actor?
Lau: Music is very different from acting. There are similarities but acting is about endurance. I'm not on tour at the moment but I have performances right after I get back.
Q: Are you working on an album?
Lau: I have an album in the works that will come out this summer and the Chinese movie coming out at the end of the year that I was working on when I got the call for this. I had no break in between. I was planning on having a big break, going to the beach, and then I got the call for this. On the one hand, I was like, "No." On the other hand, I knew I had to do this movie, so I chose this.
Q: Where do you call "home" now?
Lau: Home is a complicated work because I grew up in Toronto and then I've been moving around since to Korea and China. So, like this movie, home is where your close ones are.
Q: Are you involved in causes/charities?
Lau: I'm involved in several charities. I have a soft spot for children. I'm involved with Save the Children. Before this movie, I wasn't really aware of rescue dogs but when I looked into it I saw that these animals really need help. I hope that after audiences see this movie, they not only will be moved by the story but also more aware of rescue dogs, and cats and birds.
Q: What's your favorite go-to movie?
Lau: I hope this movie can become one of those go-to movies for people someday. Whenever I'm feeling down or feeling overworked, I like to watch Will Smith's "Pursuit of Happyness." It just makes you feel good.