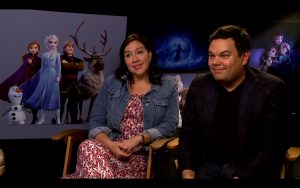 By ANGELA DAWSON
Front Row Features
HOLLYWOOD—Kristen Anderson was a struggling stage actress who had played "a lot of nuns in New Hampshire," when she found her true calling—songwriting. After attending a writers' workshop, she composed her first song and was hooked. Three weeks later, she met songwriter Robert Lopez, the man who would eventually become her husband and music partner.
The couple has since written the songs for Disney's "Frozen," "Coco"—winning Academy Awards for each—as well as 2011's "Winnie the Pooh." She writes the lyrics; he composes the music. They are hoping to for an Academy Award hat-trick with "Into the Unknown," one of their memorable original songs they wrote for the wildly popular 2019 sequel "Frozen II." The song is slated to be performed live by Idina Menzel (who voices Elsa in the animated film) and Norwegian pop star Aurora this Sunday, Feb. 9 at the Academy Awards.
The couple, who married in 2003 and have two daughters, spoke about their successful music and personal partnership at a press day promoting the upcoming home entertainment release of "Frozen II." Disney's "Frozen II" arrives on Digital Tuesday Feb. 11, and on 4K, Blu-ray and DVD Tuesday Feb. 25.
Q: How is it working together?
Anderson-Lopez: When it's great, it's great. It's really wonderful going up (to the stage) getting an Oscar together. That was pretty exciting. When it's rough, that's when those marital skills of communication really come in handy. Being able to say, "I'm feeling scared" or "I'm feeling that I'm not being heard." Those conversations that every marriage needs to have, we occasionally need to do.
Lopez: It strengthens our marriage too because we learn to communicate very closely when we write our songs. Disagreements and discussions should always lead to something better, and trying everybody's idea. The longer we work together, the more I appreciate the creativity that comes from (Anderson-Lopez). It feels more like a playdate that extends and extends from project to project. I used to hate it when we had to cut songs and start over but now it's our favorite things to do.
Anderson-Lopez: We write songs on our vacations with our kids. Every time a song falls on the floor—it happens a lot—many songs are written but only seven of them are in the movie. There's always a moment of, "Oh, we worked so hard on that and no one's every going to hear it," but then we're like, "Well, it's a chance to write another song and spending the hours doing what we love."
Q: How do you come up with ideas for your songs. I heard that you wrote one song for "Frozen II" while ice skating?
Anderson-Lopez: Every song is different. It always begins with story and talking about the story with (writer) Jennifer Lee and (director) Chris Buck and the story team while we're Skyping in from Brooklyn. We just talk about the story and get laser-focused on the idea of what the song is.
Lopez: And then it's a lot of us (with Anderson-Lopez) working together and talking. You never know where the inspiration will come from—whether it will be a title or hook, music, lyrics. Sometimes Kristin just cocoons in her room, and comes out a half-hour or hour later with "the" lyric. And, I just get to sit back. That's nice.
Anderson-Lopez: That is nice, and I say, "Do NOT knock on my door."
Lopez: Sometimes, I'll play some music, and she'll say, "Oh, I like that."
Anderson-Lopez: "Remember Me" happened because we used to live in a loft in Brooklyn where our piano was in our kitchen. He was in his boxers on the piano while I was making breakfast for the girls. And out came this gorgeous melody. I said, "Play that into my phone." I had to go to midtown for something and took that melody and wrote the lyric to "Remember Me" on the F-train on the way into midtown. When I got back home, we polished it up together. So, you never know when an idea's going emerge, but the story is the most important thing.
Lopez: It doesn't strike until you do all that talking and it's bubbling under the surface when it suddenly comes out.
Anderson-Lopez: With the skating idea, we were under a lot of pressure. We were less than a year from "Frozen II's" release date. I was ice-skating to try and deal with my anxiety, and to get some exercise. So, I was skating and saying the mantra, "This is all going to be finished in six months," over and over again. And then I thought, "Oh, that's what Olaf's thinking in the woods." So, when you find those places where your own experiences align with what one of the characters is going through, that's usually where the gold comes from. "Let It Go" was the same thing. I was talking about motherhood with Let It Go." My experience, as a woman, trying to make the quinoa and be a good mother and be there for the school trips and be a good wife and stay thin and have a career—it was just a lot of "shoulds" in my life. I was just feeling like wouldn't it be nice if I could just … let it go. I think we all have to do that. As moms, we have 50 balls we're juggling, and we have to decide which of those balls are glass and which are plastic. For every one, that's different. For me, this year, it was being an extreme athlete. It was plastic so I let that one go. I'll get back to jogging later on.
Q: What's your song as a couple?
Anderson-Lopez: The song is "A Sad Hello or a Happy Goodbye." The song was about a kid who was not popular in high school as the valedictorian saying goodbye to everyone and just jabbing them with all these passive-aggressive digs. It was like how to say goodbye to Randall High. It wasn't a great song but it landed, and that felt amazing.
Lopez: The first song we wrote together was "Bear in the Big Blue House."
Anderson-Lopez: We were dating. I was a teacher in the Bronx, in which I had to get up at 5 a.m. to get there to write musicals with kids with low literacy rates. Bobby was up all night watching children's television (while co-writing songs for the stage musical) "Avenue Q," and then sleeping until noon. So, we weren't seeing each other. He asked me if I wanted to write a song with him for an assignment and that was our first song together. It was like a song-date.
Q: Was there a song in "Frozen II" that didn't make the cut in the theatrical release that will be on the DVD?
Lopez: Yeah. There are two: "I Want to Get This Right," which was a lot of fun. Everyone loved that song. It's a proposal moment from when Kristoff proposed to Anna earlier in the film, and then it all fell apart when they were in the woods. It was about everything falling apart and him getting everything wrong. We drew from everybody's experiences of proposals.
Anderson-Lopez: It has a Jackson 5 vibe. ("Frozen II" director) Chris Buck told us about his proposal that went really badly and we talked about our proposal, which I didn't even know what it was when it happened.
Q: What happened?
Lopez: It was the night of "Avenue Q" opening off-Broadway and I realized that with the (negative) New York Times review that I wouldn't be able to have a career, so now we can get engaged. On top of that, the producers had given me a ring as a present from the transit museum of "Avenue Q." So, I thought, "This is a sign." I'm going to propose with this ring. It was in the cab on the way home; I didn't want to eclipse the fun of the party of the opening night.
Q: Do your children have an impact on the music you write?
Anderson-Lopez: Definitely. They're the first people who hear anything we do. "Frozen" wouldn't exist if it weren't for the fact that we were raising two daughters. We had seen a picture of Elsa throwing snow in the air and the other one was looking at her like she was the magical thing she'd ever seen. When I saw that, I felt like, "I know that. I know that second-child worship of the first daughter." I also know that first-daughter's feeling of turning away and slamming the door.
Lopez: We snuck them onto the soundtrack of the first "Frozen." Katie, our older daughter, sings the first verse of "Do You Want to Build a Snowman?" Both girls are trolls in "The Trolls" song.
Anderson-Lopez: Annie, who was three (during "Frozen"), sings, "I don't see no ring." Now, she's 10. For "Frozen II," they did a huge amount of the "scratch" (the temporary vocals before the professional singers come in) for Anna and Elsa. So, they factor into it and give us a lot of feedback, which we take into consideration.
Lopez: But they're adolescents now. They don't give us that unfiltered feedback (like they used to).