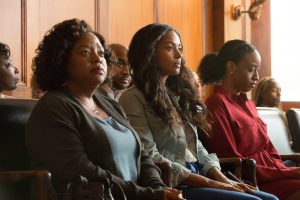 By ANGELA DAWSON
Front Row Features
HOLLYWOOD—Melanie Liburd is not yet a household name but chances are you've seen her on one of your favorite TV shows, perhaps as one of the red priestesses on HBO's "Game of Thrones" or on the Syfy series "Dark Matter" or as Alexis on the Netflix series "Gypsy" or as Kevin's girlfriend Zoe on NBC's "This Is Us."
The British actress now stars opposite Aldis Lodge in the Tom Shadyac-directed drama "Brian Banks." She plays Karina, a woman trying to move on with her life after trauma from her past has prevented her from moving forward. As a college student, she was sexually assaulted but her report was not taken seriously. The trauma forced her to quit art school and she has drifted through a series of jobs. Her story intersects with the title character who reveals to her on their first date that he was wrongly convicted and sentenced to prison for sexual assault and is trying to clear his name so he can get on with his life.
Banks' story is based on the real-life events surrounding a promising high school football star whose dream of playing for the NFL was derailed when he was falsely accused of rape by a classmate. Through bad legal representation and stringent mandatory sentencing laws at the time, Banks (played in the film by Aldis Hodge) spent five years behind bars in the early 2000s for a crime he didn't commit. The support of an inspiring instructor (portrayed in the film by Morgan Freeman) while incarcerated at juvenile hall helped Banks find new purpose to his life. Still, after serving his prison sentence, he couldn't pick up the pieces of his life because the terms of his parole barred him from stepping foot onto a college campus. Unable to play football, he applied for all sorts of jobs but was stymied because of that ex-con label. Determined to clear his name, Banks sought the help of another attorney who specialized in helping the unjustly convicted. That attorney, Justin Brooks (played in the film by Oscar nominee Greg Kinnear), urged Banks to find new evidence that could be presented to a judge and help exonerate him. Through luck, determination and his faith, he did.
Liburd says she was enthralled with the story when she received the script from her agent. She didn't realize, at first, it was based on a real person. Although the Karina character is an amalgam of a couple of women that Banks knew at the time he was fighting for exoneration, she says she could empathize with both her character's experience as well as Banks' challenge.
Q: Did you meet the real Brian Banks?
Liburd: Yes. Just meeting him and listening to what he went through and how his dreams were snatched away at such a young age. And how he was offered a full scholarship to go to college and play football with the balance of that character with Karina in his life, I was really inspired by it.
Q: Karina is an amalgam of a couple of women in Brian's life. She is someone who's there for him when he is at his lowest point.
Liburd: I think they were there for each other. That's what's so important in the movie. He lost five years of his life and comes out and it's like he's still in prison because he's being judged for something he didn't do. He can't get a job. Karina also judges him on their first date. For her, it's like her worst nightmare, where he's sitting opposite her and telling her that he was in prison for rape, even though he didn't do it.
Q: Especially after she reveals what she went through—being sexually assaulted and then not being believed.
Liburd: Exactly. She was sexually assaulted in college and no one believes her. She was brave enough to come forward but no one believed her. I can't imagine how difficult that is, and how she lost focus. And how she was a straight-A student but just couldn't go on. The experience really tore her to pieces, so she was out of college for five years doing different jobs and then she became a trainer. Meeting Brian gave her a whole new perspective. In a way, it helped them both. Because he's so vulnerable and opens up, she tells her story and opens up to someone about her feelings for the first time.
Q: What was your impression of Aldis Hodge who plays Brian Banks?
Liburd: He's amazing in it. He was wonderful to work with. He's such a giving actor and so dedicated. I was a fan of Aldis before. I watched him in "Underground" and saw how he played such a strong character with vulnerability, which I think is such a difficult thing to play as a leading man. It was just an honor to work with him, honestly.
Q: You play a fitness trainer in this and you're obviously very fit. I saw in your bio that your father was a martial artist.
Liburd: Yes. There's always been fitness in my family. (She laughs.) Both of my brothers are trainers so it's something we grew up with our whole lives really.
Q: You've actually spotted someone at a gym, right?
Liburd: Oh yeah.
Q: You didn't have to fib and say, "Oh yeah, I can do this."
Liburd: Absolutely. I also went to art school too. That's how I identified with Karina. I just loved her courageousness and bravery. There's a line that Morgan Freeman says, "It's not what happens to you in life. It's how you respond to it." That's very uplifting and inspiring to anyone. With Brian's story and Karina's story.
Q: Were you surprised that your director is Tom Shadyac who is best known for his comedies?
Liburd: I grew up watching comedies like "The Nutty Professor." It's one of my favorite movies of all time. It's comedy genius. The funny thing about meeting Tom is, I'd say he's more this movie than anything. There's so much of him in this movie. He's such a hopeful, brilliant human being.
He really put us through our paces in the audition process. After I met him in person in the audition room, we had a few calls and five Skype interviews, where he asked questions about our lives and how we relate to the characters. It really was his baby. Halfway through all these interviews, I wondered why he was asking me all these questions. When I got to the set, I realized why. It's because he wants to know what people tick and how they work so he can really be there for you when you're on set and get the best out of you, which I think is fantastic.
Q: How did this work with your schedule on "This Is Us?"
Liburd: I shot this right before I got "This Is Us." We shot this is 2017 as a little independent movie. We all took it on as a passion project. We all loved it. We all loved Brian's story. We did the festival circuit and entered the L.A. Film Festival and won the Audience Award. We were all surprised and happy that people loved this movie as much as we did, and were moved as much as we were moved. We got distribution through Bleecker Street Films off the back of that. So, it really is a special project for us all.
Q: When this was at the film festivals last year, it was during the peak of the #metoo movement, which has inspired women—and men—to come forward with their accounts of sexual assault.
Liburd: This is a story about life and the injustices of the judicial system. It's also why I took this role because the film has a great balance between Brian's character and Karina's character. He lost five years of his life and was wrongly accused of an assault he didn't do and lost out on a full college scholarship. And there's Karina who lost five years of her life because she was a victim of sexual assault and came forward but wasn't believed. So, I think it's a great balance and tells the story of two people who came together, and took each other for face value and kind of learned from each other, and learned to trust the world again through each other.
Q: After you shot this, you landed the role on "This Is Us." Was that kind of a pinch-me moment for you?
Liburd: I enjoyed every minute of making this movie and then to get "This Is Us" as well was an absolutely dream. What a dream to work with a cast like this and then to work with the cast on "This Is Us," it's been a wonderful, crazy couple of years. What a joy it's been being able to work with such brilliant actors and directors and everyone from the crew. And ("This is Us" producer/writer) Dan Fogelman—amazing. Really amazing.
Q: What's coming up and ideally what kind of role would you like to play?
Liburd: There's more of "This Is Us" with Season Four. But I'm also looking forward to making more movies like this, that can change people's minds and spread awareness to change the judicial system and its flaws. Maybe do some good from it. That's all we can do.
Q: When do you go back for the next season of "This Is Us?"
Liburd: I have no idea. But Zoe's going to pop up somewhere and surprise us all. She's part of the family so we'll see.