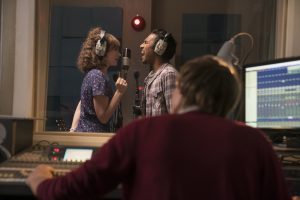 By ANGELA DAWSON
Front Row Features
HOLLYWOOD—Imagine there's no Beatles. It's easy if you try. But who would want to live in a world where the Fab Four never existed? Think of it. No "Yesterday." No "Here Comes the Sun." No "Hey Jude." No "In My Life." No "Eleanor Rigby." No way.
In the "what if" fantasy "Yesterday," arriving in theaters Friday, Britain's foremost rom-com scribe Richard Curtis ("Four Weddings and a Funeral," "Love Actually") contemplates an alternate world where arguably the greatest rock band ever never existed, thus no one has ever heard of the now Beatles classics. Except for one guy—a struggling musician named Jack Malik—who wakes up in a hospital following an accident caused by a mysterious momentary global blackout to discover that no one around him has ever heard the classics written by Paul McCartney, John Lennon, George Harrison and Ringo Starr.
With his supportive friend/manager Ellie by his side, Jack embarks on a wild adventure in which he performs those never-before-heard Beatles tunes to enthralled audiences, including real life contemporary superstar Ed Sheeran. But Jack's newfound fame comes at a cost. He gets a new, hyper-ambitious Hollywood manager who takes over his career pushing out Ellie, who has been secretly in love with Jack since they were kids. Will Jack come clean about who was really responsible for writing those classic songs that he's now getting credit for, and will he learn that love is more important than fame? "Yesterday" is directed by "Trainspotting" and "Slumdog Millionaire" filmmaker Danny Boyle, who previously worked with Curtis on a skit featuring Rowan Atkinson at London's 2012 Summer Olympics.
Adorable, supportive Ellie is portrayed in the film by none other than Lily James, best known for her starring role in Disney's live-action "Cinderella," as well as appearing as young Meryl Streep's character in "Mamma Mia! Here We Go Again" and portraying Lady Rose MacClare on the wildly popular TV series "Downton Abbey." James stars opposite Himesh Patel, who plays Jack, the troubadour who becomes blessed with a surprise gift. "Saturday Night Live's" Kate McKinnon and Sheeran also star.
James spoke by phone from London about taking on the role of Jack's supportive friend and manager, Ellie, and being part of this heartwarming fantasy that takes audiences on a magical mystery tour through love, fame and Beatles music.
Q: You just got back home to London from promoting "Yesterday" in Liverpool, right? Was that your first trip there?
James: No. We'd shot there and I'd been there before. It's such an amazing city. It's stunning and it's really the cultural capital of England if I'm correct in saying that. It's really a special place and I don't think you could make a film about the Beatles without going to Liverpool. It would just be wrong.
Q: How did you get involved with "Yesterday" and what interested you most about being a part of this film?
James: Initially, I was certainly excited when the script came through because I knew it was by Richard Curtis and I just adore him. I'd just worked with him on "Mamma Mia" and I was so excited to read the script and the idea of being at the heart of a Richard Curtis movie was so incredible because I just think he writes the best stories, the most incredible characters and the most heartwarming, heart-swelling stories so I was racing to turn over every page and then to work with Danny Boyle who is an absolute visionary and total legend of cinema. So, I was excited to see what they'd do together.
Q: Your co-star, Himesh Patel has a wonderful voice. Can you talk a little about working with him? You also get to do a little bit of singing with him in the film.
James: It was great. I am just in awe of him, actually. This part was thrust upon him and he had to sing, like, 18 songs of the Beatles, and he just did it with total ease, purity and honesty. He was so chill and I absolutely loved working with him.
Q: Did you have a favorite scene to shoot?
James: There was that scene where they were recording all the music in the recording studio by the railway tracks, that scene where we are kind of, like, winging it and it's meant to evoke that feeling that the early Beatles must have had when they were creating that music and it was pouring out of them and they were all coming up with different ideas. There was such a good vibe and we were dancing, freestyling and singing. That was probably the most enjoyable scene to do.
Q: What was your introduction to the Beatles?
James: My introduction was really through my family, through the music that was played in my house growing up. My parents had amazing taste in music and the Beatles was a part of my upbringing really. Dad used to make these mix tapes back in the day and the Beatles was on there. It's just something that I listened to in my house growing up.
Q: Do you have a favorite Beatles song or album or era?
James: I think "Revolver" is my favorite album. It's just how each song goes (into the next). I hear "Taxman," and then it goes into "Eleanor Rigby." I love it. I love "Here Comes the Sun." If that song comes on I will instantly feel happy.
Q: You get to work with a modern pop icon as well Ed Sheeran in this. Were you a fan of his beforehand and what was it like working with him?
James: I stand in total awe of Ed Sheeran because he came in and, like Himesh, was very relaxed and open, and so up for a laugh. He was brilliant. It's very hard to act as yourself, actually. You'd think it would be easy but it's actually difficult. He's a really bright guy and he was kind enough to give us his sets, his gigs, his audience and his stage, and to watch him perform is just incredible in front of 60,000 people. He's just this one guy on a guitar. He has so many hits too. Song after song in the stadium, the entire audience of 60,000 people is singing it back at him. It was pretty amazing.
Q: Do you think there is any danger that people will forget that the Beatles ever existed?
James: Oh, that's never gonna happen.
Q: The premise of "Yesterday" is interesting: If the Beatles didn't exist, what would the world be like? Although, in the universe of this movie written by Curtis, Coke and cigarettes don't exist either. Is there some connection?
James: I'm pretty sure that was random. I'm sure Richard's (choice to put that plot-point in there) was just random. You'd have to ask him. I don't know that there was that much logic in that.
Q: Tell me about working with Danny Boyle. Was he very precise or did he give you a lot of leeway? What's his style as a filmmaker?
James: He spends quite a long time rehearsing with you. Then he kind of lets you at it. He is specific though because we spent quite a lot of time talking about it so we were all totally on the same page. What was the most incredible thing for me about working with him was his energy. It pours out of him. He's at the monitor basically buzzing and he's got so much energy and he's right there with you. You felt so supported. Every time he came over to give you notes his eyes would be welling up. He'd live it with you so I just trusted him so much and was in safe hands. The choices he made with the camera and how to tell the story and how to paint the story were just so phenomenal. He's one of the best directors I've ever worked with. He's special.
Q: Ellie and Jack have a little bit of a problem getting past the "friend zone." They've known each other and been friends forever and Ellie has had this crush on him forever as well. He just doesn't see it or doesn't want to see it…
James: Or he's stupid. What's the matter with him, for God's sake? (She laughs.)
Q: Are you kind of shy like Ellie in revealing your feelings to someone you like, or do you just tell him?
James: I don't think you ever know what you're gonna do. I'm a pretty outgoing person and Ellie is pretty outgoing but I don't think love is rational. You make crazy choices. You behave in ways that you wouldn't expect of yourself. You kind of can't control it. So, I think she gets stuck. Love is all about timing, and I think that Ellie and Jack just keep missing each other so it was quite an interesting dynamic to play that. I don't know but I don't think I'd wait that long to tell someone those feelings. I'm too impatient.
Q: You have other movie projects coming up like "Rebecca." What's happening with that?
James: I fly to France tomorrow morning to start "Rebecca," so I'm packing right now. I'm going to Nice, but only for a week. Then we shoot the rest of it in and around England.
Q: Are you excited about taking on that iconic role? It's been told on film a few times now.
James: Yeah, it has been made three times.
Q: Have you thought about how to put your stamp on the second Mrs. de Winter character?
James: Yeah, of course. To be honest, I love the book so much and I kind of want to stick as close to the book as I can. But, at the same time I have to expect that she is really faithful to it but also there are differences about it.
I have to trust that our version is our version. Have it take wing and fly and let it be what it's going to be and take it moment by moment. I've read the book seven or eight times so I feel like she's in me. But there is so much to impart because she's the first person to know how she describes herself is…you don't know who to trust and how you talk about yourself is often the worst judge of yourself, so we'll see. I'm kind of terrified but I'm sure it will work out.
Q: Are you working on anything music-related at this point?
James: No, not at the moment.
Q: Are you eager to?
James: Yeah. I love music, so whenever a project comes along that has music in it again. I would be thrilled.
Q: It's great that with "Yesterday," you are bringing the Beatles to yet another generation of potential fans.
James: I'm glad, too. This film is the perfect way to celebrate and honor their music in a way that isn't just doing a biopic. That would be difficult with the Beatles, so I'm really glad to be part of this.