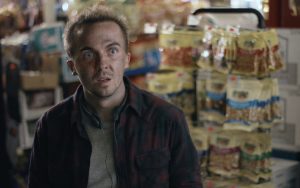 By ANGELA DAWSON
Front Row Features
HOLLYWOOD—For seven seasons, Frankie Muniz starred in the acclaimed comedy "Malcolm in the Middle." When the show wrapped 13 years ago, the gifted, wholesome-looking actor decided to pursue another passion: racing cars. After sustaining several concussions during his racing career, he moved on to another passion: music. As a drummer in the band Kingsfoil, he toured the world, sometimes returning to Hollywood for occasional guest-starring roles on TV series or supporting roles in movies. Now 33, Muniz is ready to commit once again to acting, encouraged by a starring role in the psychological horror movie "The Black String," arriving on DVD, Digital and On Demand Tuesday Sept. 24, from Lionsgate.
By phone from Arizona, where he lives and operates an olive oil and balsamic vinegar business with his fiancé Paige Price, Muniz spoke about his new film in which he plays a 20-something facing overwhelming disappointments and frustrations like so many other millennials nowadays. Jonathan works as a convenience store clerk, is pressured by his well-intentioned but unhelpful friends and parents to improve himself. His love-life is non-existent. During one late night alone in his apartment, Jonathan sees a TV commercial for a questionable dating service.
Surprisingly, the sexy woman (played by Chelsea Edmundson) that he chats with on the phone agrees to meet him at a coffee shop for a date. One thing leads to another and the couple wind up back at his apartment. The next morning, Jonathan wakes up alone but notices a rash forming in his groin area. He heads to the doctor who reassures him it's not as bad as Jonathan thinks. Jonathan tries to get hold of his one-night-stand but when he returns to the house where he had picked her up the night before, the resident there says he has no knowledge of the woman, though it appears to Jonathan that something's amiss. His rash worsens as he tries to track down the mysterious woman, whom he is concerned has been abducted by a cult of witches and they're coming next for him. Is Jonathan suffering from paranoia or does he have a legitimate concern about what's happening to him? The low-budget film is directed Brian Hanson who co-wrote the screenplay with Richard Handley.
Q: How do you feel now that "The Black String" is coming out?
Muniz: I'm actually very excited about how it turned out. Throughout, you don't know if it's actually happening or if it's all in his head. I love movies like that, so it's cool to be part of one.
Q: How was it getting into the mindset of your character, Jonathan, who's in this very precarious place, mentally? Were you able to get in and out of it?
Muniz: Yeah. It was a very short shoot in comparison to other films I've done, so we had a lot to cram in over a short time. Obviously, you don't film in order so Brian Hanson, the director, and I really worked for a few days before the film to create the level of "crazy" or "passion," where Jonathan's really trying to fight for what he believes, and it was up to us to keep that going. One thing that's different about this movie is that there's some comedy in it. Well, not comedy but funny parts to it—a real reaction you would have towards someone going through this—and we tried to play it as straight as possible.
If Jonathan thought this cult was really after him, what would he really do? Sometimes, your reaction would be crazy or sometimes it would be funny. So, we tried to play that as straight as possible and I think it really came across. I really give Brian and the producers credit because there's a lot of ways we could have played it, but they did a really good job of telling the story, and I'm really lucky to have been a part of it.
Q: One of the funny lines is when your character refers to the liquor store as a "lifestyle convenience boutique."
Muniz: That was added in on the spot and I'm glad they cut when they did because we all cracked up afterwards. I love that scene, in general, because it's the first one where you see me showing anger and fighting back.
Q: Jonathan really wants to be an illustrator or artist but is stuck in a dead-end job with no prospects, which reflects a lot of what's happening with many 20-somethings today.
Muniz: One thing I like about the story is that it shows that there may have been a past discretion for Jonathan, maybe some drug use, but he's really trying to live a better life. He's working hard and focusing on improving himself but nobody's helping him. Nobody believes in him. Maybe there are a lot of people who feel that in their lives. But I like the fact that he was trying to better himself before this all happened to him.
Q: When and where did you film this?
Muniz: We filmed it in L.A. in October-November of 2016. It was a very small budget. The fact that we had so many locations and moved around L.A. as much as we did, we were able to film the movie in about 16 days. I'm so thrilled with the end result.
Q: You stepped away from show business to focus on your other passions: racing and music. Are you still trying to balance your other interests with your acting career?
Muniz: When I was 19 or so, when "Malcolm" ended, I wanted to focus all my time on racing cars. That was my life, because if you want to be a professional race car driver, you have to dedicate 100 percent to it. From that, I got seriously hurt and ended up joining a band and playing the drums, and suddenly I'm touring all over the world playing music. I've been fortunate to have had all these amazing careers and things that I've done. I never wanted to step completely away from acting; it was more like my life got taken over by those other things, and I wanted to dedicate my time to those things.
I came back and did things here and there in the acting world, but I never felt like I got a chance to fully jump back in. With "The Black String," they sent me the script and I really loved it. Unlike some of the other things that I'd done (in acting), while I was racing and performing with the band, I really wanted to do this film. I actually auditioned for the role, and flew in to do it. I was thrilled to get the part.
As an actor, I've been fortunate. I was on "Malcolm," which was a great show. I don't know how to say this without sounding self-deprecating—but I never felt like I was a great actor. I felt like I was lucky to be on a great show with great writing. I was a funny-looking kid and it just worked. There are things I've done that I've been proud of—one of them is an episode of "Criminal Minds" that I did. But, for the most part, if I see some of the things I did when I was younger, I think, "I wish I could do it again. I could do that better."
When I saw this film, because it was such a different kind of role for me and different genre of film, I want people to be surprised what they get from me in this. I love earning people's respect in this genre. I'm really proud of how it turned out with my performance, and be part of a project in which I feel I did my best.
Q: Chelsea Edmundson, who plays Dena, has some great wound makeup as do you. How long did it take getting made up with the oozing sore on your stomach and "the black string?"
Muniz: There were more scenes where we wanted it to be seen but putting on the prosthetic takes a long time so we showed it as much as we could, and we had a special effects makeup artist that would come in and apply it. But it is makeup, so it would get onto my shirt and pants, and as your acting and running, bicycling and sweating, it comes off, so they had to touch it up. It was pretty gnarly looking.
I don't know if you noticed, but whoever Jonathan goes to—whether it's his friend, or the doctor, his parents, the psych doctor—everyone's like, "It's nothing. It's no big deal." I thought their reactions were funny because it's like, "How is this not a big deal?" It plays on the fact of is it real or is it all in his head. Is maybe what Jonathan seeing on his body a bigger deal in his head than what it really is?
Q: Has making this movie whetted your appetite for playing more dramatic roles in this genre?
Muniz: Doing this film, as small and low-budget as it was, and getting the result that we did, it really motivated me to keep going. I love this genre; I love more dramatic roles. I think people think of me more as comedy. But now the two favorite roles I've ever played are more dramatic. I just really enjoy being able to act in the film like this. So, I'm not sure, actually. I'm still figuring it out. Fortunately, and unfortunately, for me in my life, there's so many things I want to do because there are so many things I have a passion for, and there's just not enough time in life. I've always felt like I was running out of time. I'm 33, so I still have time but it's crazy how busy you can get. I really want to head back to the film world or to TV, and put in 100 percent again because I'd love to see what happens. Hopefully, people will see this film and like the job I did and there will be more of it.
Q: You and your fiancé, Paige, have business in Scottsdale?
Muniz: We have an olive oil and balsamic vinegar business. It's called Outrageous Olive Oils and Vinegars. That's the thing that's taking over my life. I love it; I love being a small business owner. I love working with her. It's something I never thought I'd be involved in but I love it. It's an interesting business and a lot of fun.
Q: Have you set a date for your wedding?
Muniz: We keep trying to. We always said we wanted to do something fairly small but every time we pick a date, we'll call one of the six people invited and they'll say, "Oh, we can't be there." So, we keep moving it around everybody else's schedule, but it's going to be pretty soon. I can say that. A year ago, I lost my house in a flood when the cat turned on the faucet, so it's been almost a year of rebuilding. We thought it'd be done by now but that got pushed back. So, our plans keep changing because of everything else, but we're just making new plans.
Q: Do you get a chance to catch up with any of your "Malcolm in the Middle" co-stars?
Muniz: Not as much as I wish we did other than Bryan (Cranston), who's just an amazing human, who calls me monthly ever since the show ended 13 years ago. To be honest, everyone else in the show, I've only seen one time since then. We did a reunion just for ourselves with the cast and crew eight years ago. I compare it to summer camp. When you go to summer camp as a kid, you meet so many amazing people and you promise to be best friends for life, but then everyone goes their separate ways and starts their own life. I moved. Justin (Berfield, who played his older brother Reese) became a big producer. Everyone gets busy and then you say, "How did 13 years pass?" We spent every day for seven years together. Next time I get to L.A., I'm going to try and get everyone together, for sure.
"The Black String" is available on DVD, Digital and On Demand starting Tuesday Sept. 24. The DVD includes special features including an audio commentary with director/co-writer Brian Hanson and producer Charles Bunch, a making-of featurette, deleted scenes and alternate takes. It is available for a suggested retail price of $19.98.