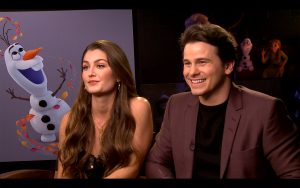 By ANGELA DAWSON
Front Row Features
HOLLYWOOD—A cold front is coming to home video Tuesday Feb. 25, but the chill is a welcome one as last year's hit Disney animated sequel "Frozen II" arrives on 4K Ultra HD, Blu-ray and DVD for the first time. It also is available now on Digital, 4K Ultra HD, HD and Movies Anywhere.
The music-filled animated adventure picks up the story of royal siblings Anna and Elsa as they depart Arendelle with their friends Olaf, Kristoff and Kristoff's reindeer companion Sven, to travel to an ancient, autumn-bound forest of an enchanted land in order to discover the origins of Elsa's powers and save their kingdom. In their quest, they meet new friends and face new obstacles.
Since it's Nov. 22, 2019 debut in theaters, "Frozen II" has become an international sensation, raking in more than $1.4 billion at the box office to date, making it the No. 1 animated feature of all time. With more than an hour of bonus material, the empowering film available in various home entertainment formats is likely to attract even more of a following as well as quench the thirst of "Frozen II" fans that simply can't let it go.
From the original "Frozen" Academy Award-winning team—directors Jennifer Lee and Chris Buck, producer Peter Del Vecho and songwriters Kristen Anderson-Lopez and Robert Lopez—"Frozen II" features the voices of Idina Menzel (Elsa), Kristen Bell (Anna), Jonathan Groff (Kristoff) and Josh Gad (Olaf).
"Frozen II" bonus features include deleted scenes, deleted songs, Easter eggs, outtakes and a sing-along version with lyrics to the film's unforgettable songs. Extras invite viewers to go behind-the-scenes to hear personal, making-of stories from the cast and crew. Fans who bring the film home on Digital will receive two exclusive extras: an interview with songwriters Kristen Anderson-Lopez and Robert Lopez, who won an Oscar for Best Original Song ("Let It Go") for "Frozen" and wrote seven original songs for "Frozen II," and a deleted song titled "Unmeltable Me."
At a recent press day held at the Walt Disney Animation Studios in Burbank, Calif., actors Jason Ritter (Disney Channel's "Gravity Falls") and Rachel Matthew ("Happy Death Day" films), two of "Frozen II's" actors, were on hand to talk about being part of the blockbuster sequel. They provide the voices of Northuldra tribe members Ryder and Honeymaren that Elsa, Anna and Co., befriend on their journey.
Q: Was this your first project for Disney?
Ritter: I had done two seasons of a show called "Gravity Falls" for Disney television but this is my first movie with them.
Matthews: This was my first movie for Disney and my first voiceover movie. It also was my first voiceover audition. I was checking the boxes off.
Q: How did you get the script?
Ritter: I don't think either of us read the script. We got an email that said if you want to come in and audition for "Frozen II," here's a monologue that's not from the movie but just so we can hear what you sound like and get an idea of your sense of humor and so forth. They also provided us a couple of songs they wanted us to sing or we could choose a song of our own. So, I went in. It wasn't my first voiceover audition but it was my first singing audition. I was so scared and really nervous about it. I love singing but I'd never done it before. When I was in high school, they just didn't do musicals.
Q: What did you sing?
Ritter: I sang "Suddenly Seymour" from "Little Shop of Horrors," and when I went in for my final audition I sang "She's Got a Way," by Billy Joel. As it turned out, I didn't have to sing in the movie but it was a huge personal success. I knew, at the second audition, if I didn't get the part, at least I had this personal growth. I'd gone to a vocal coach and prepared, and stood up there and did it. And I got the part.
Q: Were you confident after your audition that you were going to get the part?
Ritter: I think we both felt like it wasn't going to happen.
Matthews: I thought I wasn't even supposed to get an audition for this. My team had gotten on the phone at the right time about another client. So, for me starting off, it was such an amazing opportunity that I thought I would never have. I'm a massive fan of "Frozen." I went to NYU for musical theater, so Josh Gad, Idina Menzel and Jonathan Groff are people I've admired for years and years.
For my initial audition, I did a David Mamet monologue and I sang "Wicked Game" by Chris Isaak. I was told that I'd be coming back for an audition with the producer/director session, which was the best thing that could have happened to me. Being in this beautiful place and walking around the halls was enough for me. To be told I'd be coming back (for a second audition) was a dream in and of itself. That whole experience was wildly intimidating as it was, it was also the most fun I'd ever had. It felt right. I was able to see sketches of Honeymaren even before we started recording.
Ritter: I remember being so nervous while I was singing they said, "You don't have to look at us if you don't want to," and I said, "OK," and turned around. But, by the final audition, I was able to stare blankly forward while singing.
Q: When did you find out you got the part?
Ritter: About four months. And then it was a period of many months before I was called in to start recording over several sessions. It would change from time to time, which was exciting to see how it progressed.
Q: Did you give input to the filmmakers about your characters?
Matthews: Yeah, Chris and Jen were a dream to work with because you don't really (record your voice) with other actors in the room. Jason and I didn't meet. I saw him at a party and whispered to him, "Hey, I'm playing your sister."
Ritter: I felt like as they got to know us better, the scenes were written in a way where they had gotten to know my voice and I was getting to know them. There was a point where my character was way more scared of Olaf and they cut it down a bit. His hands are scary.
Matthews: There was one scene, originally, where Honeymaren is supposed to be running really fast and screaming, so I was running in place in the booth, and they said, "Oh, Rachel, you can't pick up your feet in there. We can hear everything you're doing." They said, "Use your action bar." I didn't know what that was. It turns out there's a bar right in front of you and you hold onto it and use your upper body to get the sound of movement. There are videos of us where we're just moving our entire upper body around while holding onto this bar.
Q: Will fans get to see that on the Blu-ray?
Ritter: Yeah. I know there are a lot of deleted scenes and behind the scenes, outtakes and deleted songs. I'm excited to hear all the other (unused) songs. Bobby Lopez and Kristen Anderson-Lopez are just so incredible. Maybe we'll get a song to sing in "Frozen III."
Q: How has your life changed since "Frozen II" was released in theaters?
Ritter: My daughter has some new action figures to play with. I keep saying to her, "Wouldn't you rather play with (Ryder)?"
Matthews: My future children will have plenty of dolls because my mom has bought up the entire aisle of "Frozen II" dolls at Walmart for her future grandchildren. No pressure. My family's been so supportive. When you walk in my kitchen, there's every book, every doll, everything Honeymaren right now. Just to say we have a doll is crazy so life has been great. It's just very surreal for me.
Q: Do strangers recognize you by your voice from "Frozen II?"
Ritter: I was at a coffee shop placing an order. It also happens sometimes when I'm speaking with a kid, and their eyes go wide and they say, "Ryder?" It's such an exciting thing. If my regular talking voice was wildly different from the characters I've voiced then that (recognition) doesn't happen. But Ryder's basically me and Dipper's ("Gravity Falls") basically me up here. (His voice goes into a higher register.)
Matthews: Because of this experience, Disney's asked me to do three audiobooks for them. I've already done the first two and about to start the third. You can check them out on Audible right now.
Q: What's your takeaway from your "Frozen II" experience?
Ritter: Seeing children's reactions. It seems different now when I see a girl dressed up as Elsa or Anna rather than Cinderella. There's a little more power to it. Cinderella's great but I really enjoy being part of a movie where I can enjoy looking at the underlying message. Seeing kids singing along with the songs I remember singing along with Disney songs when I was a kid. Now, here it is—a new generation. It's been lovely.
Matthews: I agree with Jason. I can get behind every single message. I remember at the premiere I had my sister and mother sitting next to me, and I'd look over them at different moments and see them being moved by the scenes. It makes me proud to be part of this.