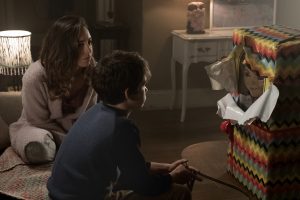 By ANGELA DAWSON
Front Row Features
HOLLYWOOD—Over the past few years, Aubrey Plaza has made a name for herself in the world of comedy. Notably, she played oddball civil servant April Ludgate on the NBC comedy "Parks and Recreation." She also had a recurring role on the short-lived sitcom "Welcome to Sweden." In her off time, she managed to squeeze in movie roles in comedies including "The To-Do List," "About Alex," "Little Hours" and the zom-rom-com "Life After Beth."
The 34-year-old actress, known for her expressive brown eyes and deadpan delivery, now enters the slasher/horror genre with the rebooted "Child's Play." She plays Karen, a blue-collar single mom trying to juggle her job as a low-wage returns clerk at a big box store with raising her adolescent son, Andy. One day she brings home a used Buddi electronic doll in hopes of cheering up her kid, who hasn't quite found his footing after a recent move to a new apartment. Unbeknownst to either mom or son, the mass-produced doll has been rewired by a disgruntled worker in a far-off land, with its safety protocols disabled. Buddi, whom Andy has rechristened Chucky, becomes overly possessive and protective of the boy, to the point where he will kill whomever inflicts even a perceived slight on him. The film also stars Gabriel Bateman ("American Gothic," "Annabelle"), Brian Tyree Henry ("Atlanta") and Mark Hamill ("Star Wars" movies) as the voice of Buddi/Chucky. The film is directed by Lars Klevberg ("Polaroid") from a screenplay by Tyler Burton Smith ("Kung Fury," "Quantum Break" videogame).
"Child's Play" is a reimagining of the 1988 horror flick that spawned a successful horror franchise. It marks the first slasher film for Plaza, whose closest brush with the genre was playing a vengeful zombie in the dark comedy "Life After Beth." Never a fan of slasher films—her older sister used to make her watch them when they were kids—she's turned down previous offers to appear in other horror films because she doesn't like watching violence, torture or people getting gruesomely killed. Going mano-a-mano with a homicidal toy was a completely other thing, though.
"If it's a doll, I'm down," she confesses.
Plaza dived right into the role. The first scene she shot was one in which she is tied up and hanging with a noose around her neck in an abandoned warehouse, covered in (fake) blood and dirt, a.k.a. "creepy nightmare stuff."
The actress, who plays "Lenny" on FX's mind-bending "Legion," recently revealed on "The Late Show with Stephen Colbert" that she is down for playing the DC Comics' super-villain Catwoman (if asked). At the "Child's Play" press conference she spoke about her latest role, playing a mom and entering the slasher genre.
Q: You play the mom of a young teen—this is a first for you, right?
Plaza: Yes, it is.
Q: What was the experience like? And what are your thoughts on electronic devices that are supposed to help us, like Alexa and Siri?
Plaza: When I read the script, I was actually really excited about the idea of playing a young mom because in real life my mom is a young mom. She had me when she was 20. The age difference of the characters in the script is the exact age difference between my mom and me, so I found a lot of connections with that character. I thought maybe it's time to just bear the child onscreen, give it a whirl. Let those maternal instincts come to the surface, and just show another side of me.
And what a dilemma for Karen in this film? The stakes are very high when a tiny robot is trying to murder your child. What an acting challenge. (deadpan) And I hate Alexa and Siri and all technology.
Q: What movies did your director Lars Klevberg have you watch?
Plaza: Lars gave me the (2014) movie "Mommy."
Q: What's your favorite slasher movie/slasher character?
Plaza: I'm not a big slasher movie fan. I don't want to watch people get stabbed and I don't want to be stabbed.
Q: But you don't mind pretending to stab people?
Plaza: No, not at all. I go for more of the psychological horrors like "Misery" and that kind of thing, because that can really happen. That's what's scary to me.
Q: Speaking of psychological thrillers, when does your TV series "Legion" return to FX?
Plaza: June 24.