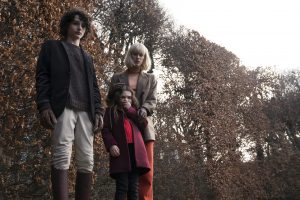 By ANGELA DAWSON
Front Row Features
HOLLYWOOD—Finn Wolfhard is best known for his starring role on the spooky Netflix series "Stranger Things." He also starred in the big screen adaptation of Stephen King's horror novel "It."
Now the 17-year-old Canadian has a starring role in "The Turning," based on the oft-adapted Henry James novel "The Turn of the Screw."
The charismatic curly-haired actor spoke about making the film and playing the part of Miles, an orphaned boy left in the care of a nanny in an isolated Maine estate along with his younger sister. It turns out that both the children and the house harbor dark secrets, and reality is distorted.
Filmmaker Floria Sigismondi says wanted to bring a modern sensibility to the classic 19th century story, resetting it in the 1990s.
"My take on the story is a female one," she says. "I wanted to explore the ideas of the #metoo movement and the idea that if you say something you can be accused of being crazy, and if you don't say something, that silence grows as a disease inside of you. You're damned if you do, and damned if you don't."
Wolfhard, who co-stars with "The Florida Project's" Brooklynn Prince, Mackenzie Davis and Joely Richardson revealed what he liked about performing in this updated classic ghost story with a twist.
Q: What makes "The Turning" a must-see film?
Wolfhard: This is the modern-day version of the Henry James novella "Turn of the Screw". It's modern because not only does it take place in the mid-90's, but it sort-of flips the helplessness of the Kate character (Davis). She's a little more empowered and I think people are really going to want to see that.
Q: How would you describe your character, Miles?
Wolfhard: He's this 15-year-old kid who has just gotten expelled from boarding school. He is really coming to terms with who he is. He's kind of a depressed kid who's battling a loss. He's battling grief. He has a lot of people that he has lost in his life, so he's a lost kid. He's really unpredictable and sometimes you don't really know if he is being affected. In some scenes, he's really funny and some scenes he's sweet and some scenes he's really disgusting, so it was a really fun character to play.
Q: What impressed you about the character?
Wolfhard: In the script, there is a line saying that Miles is an "exposed wire," and I thought that really described the character perfectly because he is angsty and strong but, at the same time, you can see that there is a hurt kid inside. I thought that was super interesting.
Q: How does the character change over the course of the film?
Wolfhard: It's interesting because he starts out the story a little moody and weird but you don't really think much of it until you get to the second half of the movie and he's gone full mentally ill. He doesn't care anymore and does whatever he wants.
Q: What else drew you to do this film?
Wolfhard: Definitely director Floria (Sigismondi). She brings the darkness to it. We had a meeting and she just drew me in. She was really cool, talked to me as a friend and I love her work. We just got along really well and I wanted to experience working with her on this film. She's really good at visual art, in general. She went to art school and started out with visual art pieces and music videos, so she gets the visual aspect of everything, which is great. Horror movies and thrillers are all about the visual aspect.
Q: How does Miles relate Mackenzie's character, the nanny/governess?
Wolfhard: Miles really wants to reach out to Kate, but he doesn't know how. Something is stopping him, and on top of that, he's a depressed kid whose parents have died. He doesn't have anyone to reach out to. Kate comes in and he finally has someone, but he can't express himself, so he does it in a way that seems creepy or disturbed. There's almost a weird sweetness to Miles, and Kate sees that.
Q: There's a big twist about midway through the film. What can you say about that?
Wolfhard: There is a huge change between the first half of the movie and the second half. The first half is the kid going "nothing is real," and the second half is (him believing) "everything is real." The stakes are the highest they've ever been. And to have that flick on like a light switch really gets the audience into it. It gets you to bite your nails. It's kind of a roller coaster.
Q: What was the most fun about filming this and was anything scary?
Wolfhard: The most fun about filming was just being together. Me and Brooklynn (Prince) and Mackenzie (Davis)—we all just had the best time ever. We became really good friends and latched onto each other. And the scariest part? Doing the scenes, because you had to be in character, it was scary to your character. You had to feel scared but once they call "cut," it's fun and light again, and we tried to keep it as light of a set as we could.
Q: You filmed on location in a beautiful but eerie house. Were there any scary parts of that house?
Wolfhard: There are definitely eerie parts of the house, for sure. There are darker rooms but it is really a beautiful place and we got to shoot in the entire estate. There are parts that are modern and some old. The place is huge so it was kind of fun to run around.