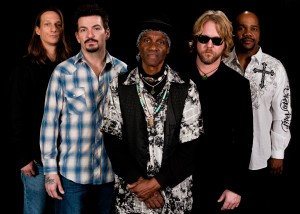 By MICHAEL HIXON
Front Row Features
HOLLYWOOD—Cyril Neville is one of the founding members of the New Orleans' Neville Brothers. Devon Allman's father Gregg founded one of the quintessential Southern rock bands, The Allman Brothers. Sprinkle in some additional talent and you have the Royal Southern Brotherhood, a band with bloodlines deep in R&B, rock and blues.
The band has been road warriors this year promoting its self-titled first album, which debuted at No. 5 on the Billboard blues chart in May. While Neville is on percussion and Allman on guitar (they both share vocals), the band also includes Mike Zito on guitar and vocals, Charlie Wooten on bass and Yonrico Scott on drums. Neville calls the band a "combination of five really distinct musical entities."
"When you think of those two groups, the Neville Brothers and The Allman Brothers, you basically think of Southern rock and Southern soul," Neville says. "It's a combination of that as well as all the extra added ingredients that comes along with … five people coming from different backgrounds, but with some similarities. Once we put all of that stuff together, man it really made a great gumbo."
Neville says it took about a year of texting and emails, as well as the persistence of associate producer Rueben Williams who "made the right phone calls at the right time to the right people," to bring the five very busy musicians together who were working on solo projects or on the road with other bands. When they converged as Dockside Studio in Maurice, La., they finished the entire 12-track album in five days.
"The chemistry was great from the beginning," Neville recalls. "When we got into the studio everything clicked and we were lucky enough to have the 'Wizard of Knobs,' master producer Jim Gaines. That combination along with the studio that we did it in … it's very remote and we actually stayed there together. It was a very fun session. It was fairly egoless."
The Royal Southern Brotherhood in not the first time some of the musicians have collaborated. In 2009, Neville and Zito won the Blues Music award for "Song of the Year" for "Pearl River," which was the title track for Zito's 2009 album. But it was the first time Neville had recorded with Allman.
"When we open our mouths we keep that legacy alive," Neville says. "It's something that you don't have to overemphasis, it's just there. The fact that we all have a mutual respect for each other's music and each other's voice and everything else before we got together, it made what we're doing together much easier."
While Neville is always working with his brothers on their next project, he's on the road with Royal Southern Brotherhood and promoting an album he's "very proud" of.
"I love the whole record and that's the first time I've been able to say that," he says. "There's something in every one those songs that's appealing."
He adds, "We went in with the determination to come out with music that would stand the test of time and I think we succeeded."
For more information on the band, visit www.royalsouthernbrotherhood.com.