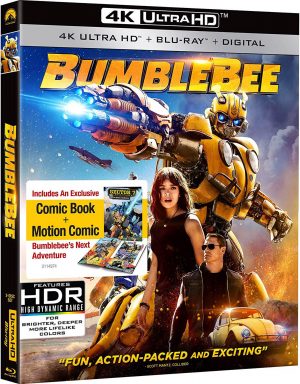 By ANGELA DAWSON
Front Row Features
Movies
Bumblebee
Director Travis Knight's action-packed "Bumblebee" lands on 4K Ultra HD, Blu-ray, and DVD Tuesday April 2 from Paramount Home Media Distribution. It also is available now on Digital platforms.
In this prequel within the "Transformers" franchise, Cybertron has fallen. When Optimus Prime sends robot-in-disguise Bumblebee to defend Earth, his journey to become a hero begins. Charlie Watson (Hailee Steinfeld, "True Grit"), a teenager trying to find her place in the world, discovers and repairs the battle-scarred robot, who's disguised as a Volkswagen Beetle. As the Decepticons hunt down the surviving Autobots with the help of a secret agency led by Agent Burns (John Cena, "Blockers"), Bumblebee and Charlie team up to protect the world.
The Digital, 4K Ultra HD, and Blu-ray releases are packed with more than an hour's worth of exciting special features, including an all-new "Bumblebee" motion comic following the beloved Autobot on his next adventure. Plus, check out deleted and extended scenes that weren't part of the theatrical release, including the original opening of the movie. Plus, enjoy hilarious outtakes, and see G1 (Generation 1) "Transformers" robots on Cybertron through the eyes of Bumblebee with exciting "Bee Vision."
"Bumblebee" on 4K Ultra HD Combo Pack or Blu-ray Combo Pack also includes an exclusive printed version of the new motion comic featuring "Bumblebee: in a standalone side story (for a limited time).
The 4K Ultra HD disc and 4K Ultra HD Digital releases feature Dolby Vision as well as a Dolby Atmos soundtrack remixed specifically for the home to place and move audio anywhere in the room, including overhead. In addition, both the 4K Ultra HD and Blu-ray Combo Packs include access to a Digital copy of the film.
Nancy Drew and the Hidden Staircase
Warner Bros. Home Entertainment will release "Nancy Drew and the Hidden Staircase" in a Blu-ray Combo Pack and on DVD Tuesday April 2. Executive-produced by talk show host Ellen DeGeneres, the family-friendly mystery stars Sophia Lillis ("IT," "Sharp Objects"), Sam Trammell ("True Blood," "This is Us") and Linda Lavin ("The Good Wife," "Alice"), and follows the titular amateur sleuth in her new town, making new friends and on a mission to solve the case.
After the death of his wife, Carson Drew decides to leave Chicago behind and make a fresh start with his daughter in River Heights. But for 16-year-old Nancy Drew (Lillis), life in a small town is mighty dull. She longs for excitement, adventure, and the chance to make a difference. Nancy gets that opportunity when she is asked to help solve the ghostly activity at the Twin Elms mansion. She investigates creaking footsteps, exploding lightbulbs and an ominous creature. Is it the handiwork of high-school bully Derek Barnes or is it possible that the ghost of original owner Malcolm Colfax is back for revenge? Recruiting her best friends George and Bess, along with local "mean girl" Helen, Nancy Drew is on the case.
"Nancy Drew And the Hidden Staircase" is produced by A Very Good Production and A Red 56 Productions. Based on the novel by Carolyn Keene, the film is executive produced by DeGeneres and Wendy Williams ("Free Ride"), with Jeff Kleeman ("The Man from U.N.C.L.E.") and Chip DiggIns ("A Walk in the Woods") serving as producers and Rachel Abarbanell ("Splitting Up Together") as co-producer. Katt Shea ("Poison Ivy") directs from the script written by Nina Fiore and John Herrera ("The Handmaids Tale"). The film will be available for $19.99 SRP for the Digital and $19.98 SRP for the DVD and $28.98 SRP for the Blu-ray Combo Pack.
The Man Who Killed Hitler and then the Bigfoot
RLJE Films will release the action-thriller "The Man Who Killed Hitler and then the Bigfoot" on DVD and Blu-ray Tuesday April 2. Written by Robert D. Krzykowski, making his directorial debut, the film stars Academy Award Nominee Sam Elliott ("A Star is Born," "The Hero"), Aidan Turner ("Poldark"), Ron Livingston ("Office Space," "Tully"), Caitlin FitzGerald ("Masters of Sex"), Larry Miller ("Pretty Woman") and Ellar Coltrane ("Boyhood").
"The Man Who Killed Hitler and Then the Bigfoot" follows the epic adventures of an American legend that no one has ever heard of. Since WWII, Calvin Barr (Elliott) has lived with the secret that he was responsible for the assassination of Adolf Hitler. Now, decades later, the US government has called on him again for a new top-secret mission. Bigfoot has been living deep in the Canadian wilderness and is carrying a deadly plague that is now threatening to spread to the general population. Relying on the same skills that he honed during the war, Calvin must set out to save the free world yet again.
Bonus features include a making-of featurette, audio commentary with the director, deleted scenes, concept art, an interview with the film's composer Joe Kraemer and Krzykowski's 2016 short film, "Elsie Hooper."
RLJE Films will release "The Man Who Killed Hitler and Then the Bigfoot" on DVD for an SRP of $29.96 and Blu-ray for an SRP of $29.97.
Nazi Junkies
Inspired by Norman Ohler's revelatory international best-seller, "Blitzed: Drugs in the Third Reich," "Nazi Junkies: The Hidden Histories of Drugs in the Third Reich" is a compelling two-part documentary series available on DVD Tuesday April 2 from Omnibus Entertainment/Film Movement.
The documentary reveals how both Hitler and Nazi Germany were heavily addicted to drugs (opiates, cocaine and steroids) throughout World War II. Through recently unearthed journals of Hitler's personal doctor, as well as archival documents and interviews with historians, scientists and WWII experts, "Nazi Junkies" unveils the depths of German addiction in surprising fashion. It also is available Tuesday on Digital formats including iTunes, Amazon and Vudu. The film is available on DVD and Digital for $24.95 (SRP)
No Alternative
"No Alternative" starring Harry Hamlin ("Law & Order," "Mad Men"), Kathryn Erbe ("Law & Order," "Oz"), up-and-comers Michaela Cavazos and Conor Proft, Chloe Levin "The Defenders") and Aria Shahghasemi ("Legacies"), arrives on Blu-ray and DVD Tuesday April 2.
The teen drama drills a hole into the world of suburban American teenagers in the early '90s and is set against a backdrop steeped in grunge and punk rock music. Directed by William Dickerson ("Detour," "Don't Look Back"), it is based on his book of the same title.
Thomas Harrison (Proft) is determined to start a grunge band, an obsession that blinds him to what's either the mental collapse—or eruption of musical genius—of his younger sister, Bridget (Cavazos). Bridget boldly rejects her brother's music, and the music of an entire generation of slackers, by taking on the persona of a gangsta rapper called Bri Da B.
The period drama addresses pertinent issues including mental health, suicide, drug use, gun control and the powerful impact music can have on the human spirit. With a screenplay by Dickerson and Dwight Moody, the film is produced by Carrie LeGrand, and also stars Matthew Van Oss, Eli Bridges and Logan Georges. The movie's soundtrack has been selected by Record Store Day as a featured title and will be released on vinyl April 13 by Rhyme & Reason Records. Featured artists include Latterday Saints, Mudhoney, Lisa Loeb, The Pork Guys and others. Additionally, the film is set for release on demand, including iTunes and Amazon Prime.
TV
The Heart Guy: Series 3 and Rake: Series 5
Debuting Tuesday April 2, Acorn DVD features two of the most charming and brilliant, but self-destructive men in two popular Australian series: the must-see medical dramedy "The Heart Guy: Series 3" and "Rake: Series 5."
Rodger Corser stars as Hugh Knight, a brilliant but arrogant heart surgeon forced to give up his high-flying job in Sydney to work as a GP in his rural hometown of Whyhope. In Series 3, Hugh's probation for his misdeeds is coming to a close, but he has mixed feelings about leaving his budding relationship with hospital boss Penny (Hayley McElhinney, "The Babadook").
Then tragedy rocks the Knights, and Hugh learns he has inherited the family farm—along with $11 million in debt. While Hugh's mother, Meryl (Tina Bursill, "Home and Away"), and brother, Matt (Ryan Johnson, "Rake," "Fairly Legal)", process their grief in vastly different ways, Matt's wife, Charlie (Nicole da Silva, "Wentworth"), receives an unexpected guest that complicates matters. With his family in chaos and his career on the line, Hugh is faced with a difficult choice: return to his glamorous life in Sydney or stay with the people who need him in Whyhope.
"The Heart Guy: Series 3" (titled "Doctor Doctor" in Australia) has been compared to an Australian "Doc Martin" with its fish-out-of-water premise and eccentric characters, the series follows a charming and genius doctor (Rodger Corser, Netflix's "Glitch," PBS's "The Doctor Blake Mysteries") forced to return to his hometown and become a local doctor after his personal life spins out of control. The three-disc DVD set features all 10 episodes of the season ($59.99, Amazon.com). "The Heart Guy: Series 3" made its U.S. premiere in November on Acorn TV and has been renewed for a fourth series (season). The SRP for the DVD box set is $59.99.
Also, the final season of award-winning Australian comedy-drama "Rake: Series 5" debuts on DVD Tuesday April 2 from Acorn TV. In a Silver Logie award-winning role, Richard Roxburgh ("Moulin Rouge!," "Hacksaw Ridge") is Cleaver Greene, a brilliant barrister battling self-destructive tendencies. As a lawyer, Cleaver prefers to defend those who are utterly hopeless and probably guilty; his clients include murderers, bigamists and even cannibals. Despite his roguish ways, Cleaver's wit and charm have won him many cases and loyal friends over the years.
The final season tackles the contentious world of politics, with disbarred lawyer Cleaver Greene (Roxburgh) having won an Australian Senate seat on a campaign promise to do nothing. But even Cleaver's low expectations fall short of the absurd reality, as he contends with a right-wing nemesis (Jane Turner, "Kath & Kim"), a noxious gas attack believed to be the work of terrorists, and a disastrous visit from the U.S. defense secretary (Anthony LaPaglia, "Without a Trace"). Cleaver tries to outmaneuver his cutthroat colleagues, but his self-destructive behavior could destroy his budding new career.
This popular series also stars Matt Day ("Muriel's Wedding"), Sara Wiseman ("A Place to Call Home"), Jacek Koman ("Jack Irish"), Erroll Shand ("Mystery Road"), Mark Mitchinson ("Dear Murderer") and William McInnes ("East West 101").
The three-disc DVD set features all eight episodes, plus a bonus behind-the-scenes featurette ($39.99, Amazon.com). "Rake, Series 5" was also featured in October on Acorn TV. The eight-episode season is available for a $39.99 SRP.
Watch "Bumblebee" in stunning 4K Ultra HD! Front Row Features is giving away a 4K Ultra HD/Blu-ray Combo Pack of everyone's favorite Transformer's origin story to two lucky readers. To enter the contest, simply email socalmovieeditor@aol.com by April 8 for your chance to win. Good luck!